Cotnari region (pronounced 'coat-nar') is a once-famous wine region from the Romanian Moldova. Rivaling once the Hungarian Tokay, the wine made here was fashionable in Paris at the end of the 19th century. The vineyard origins date back to before Romanian Moldova became a state, with evidence that the Thracian tribes populating the area cultivated vines.
Cotnari Region History
The first historical records of wine in Cotnari date back to 1250, with the pinnacle of its existence around XV-XVIth century. It was the wine of choice for Moldavian rulers Petru II, Stefan the Great and Despot Voda. Later, Dimitrie Cantemir, one of the former Moldavian rulers, mentions the Cotnari region vineyards in his book, Descriptio Moldaviae, which he wrote between 1714-1716, during his exile in Russia.
During the reign of Alexandru Ioan Cuza (1859 -1866), the sweet wines of the Cotnari region rose to fame, mainly in France.
The current wine production facility dates to 1968. It carries the same name as the region, Cotnari, and it is an ugly building from the outside, built without style during the communist era. Cotnari has 1,750 ha planted with indigenous varieties, some of them unique to the area.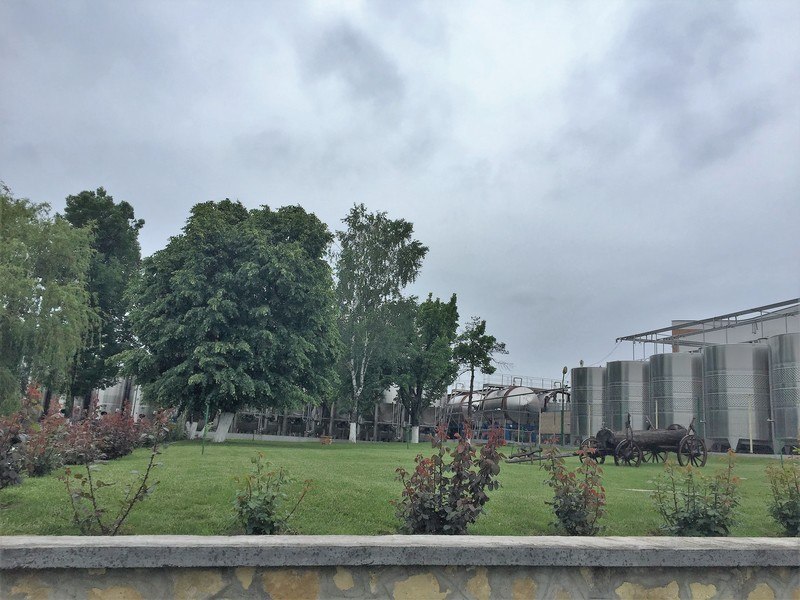 The wine-making facility was privatised in 2000 being acquired by its former Communist-era management. Two locations sell under the name of Cotnari: the former communist wine facility, which I visited, and Cotnari Casa de Vinuri, managed by the same family. The latter manages around 300 ha. They plan to focus more on higher-quality wine, wine tourism and they have a beautiful location, which I visited when I was around 17, when my high school had a group exchange with some students from France. It will be interesting to see how this evolves in the next 5-10 years.
Wine making at Cotnari
The hills of Cotnari region are calcareous and have a specific climate favourable to the appearance of botrytis or 'noble rot' which helps produce best sweet wine. The average yields are not as high as I expected, around 7 tons/ ha, with 4-4.5 tons/ha for the botrytised grapes. They cultivate only indigenous grapes: Frâncușā, Tāmâioasā, Grasā and Feteascā Neagrā.
Fermentation takes place, at 8-12°C in stainless steel tanks, using cultivated yeasts. Tāmâioasā and Grasā undergo skin maceration, as they are more perfumed than the others.

Cotnari produces few dry wines, Frâncușā being one of them. Most are demi-sweet or sweet, made with ~12% abv. In my opinion, they are missing an opportunity to vinify these wines to dry, in line with what the market prefers.
Grasā de Cotnari is the most notable grape variety, capable of producing outstanding sweet wines. It produces low yields of fat, sugar-filled grapes. Occasionally, the Grasā de Cotnari gets affected by noble rot and achieves very high sugar levels. Collection wines like this one can be longed-lived and impressive. They are the only wines that undergo barrel maturation in large old oak casks for 6-24 months. According to the guys at Cotnari, collection Grasā de Cotnari reaches it best aromas after 20-25 years of ageing in the bottle.
The wine production equipment is modern, following recent investments after privatisation. The location is a mix of factory and traditional garments and decorations.
Old wine collection at Cotnari
Cotnari is among the very few remaining Romanian wine makers that have a wine library.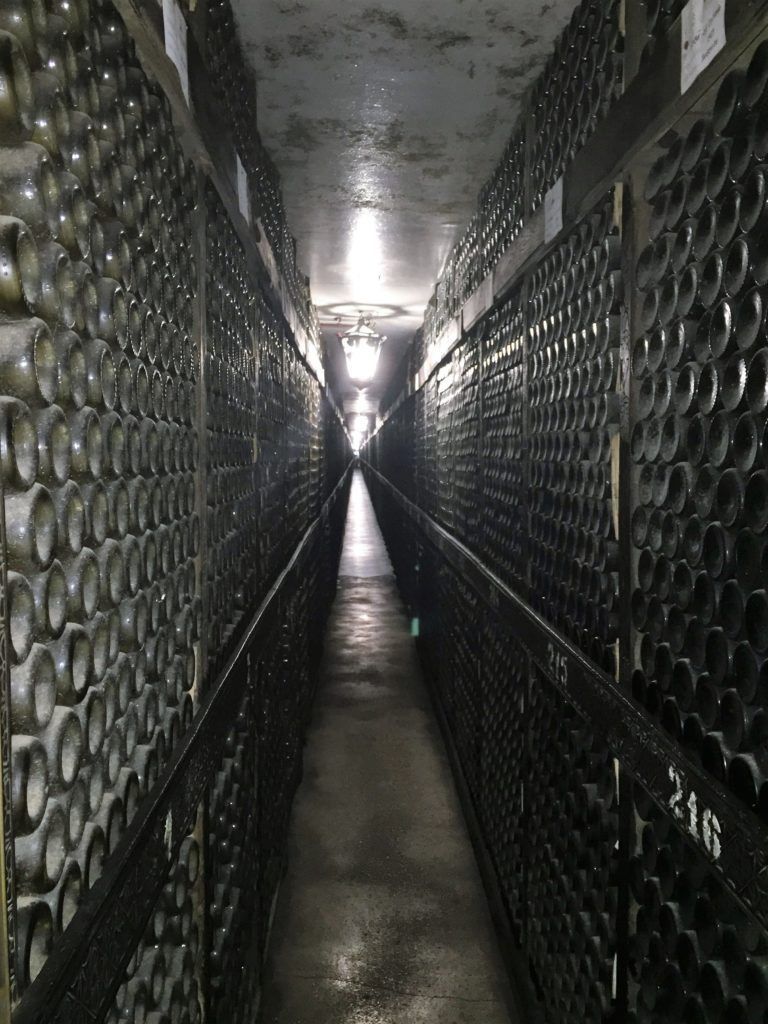 The vast majority of bottles are Grasā de Cotnari. These are collection wines which you can buy from their online shop. If you want to buy a specific vintage (for example to give as a birthday present a wine from the same year the person was born) you need to let them know with 1-2 days in advance, as they will clean the bottle, prepare it for you and seal with wax the top of the bottle. Just be aware though that there are big vintage variations, as I noticed between the 1989 and the 1979. I paid double the price for the 1979 versus the 1989 and it tasted unripe compared to the later.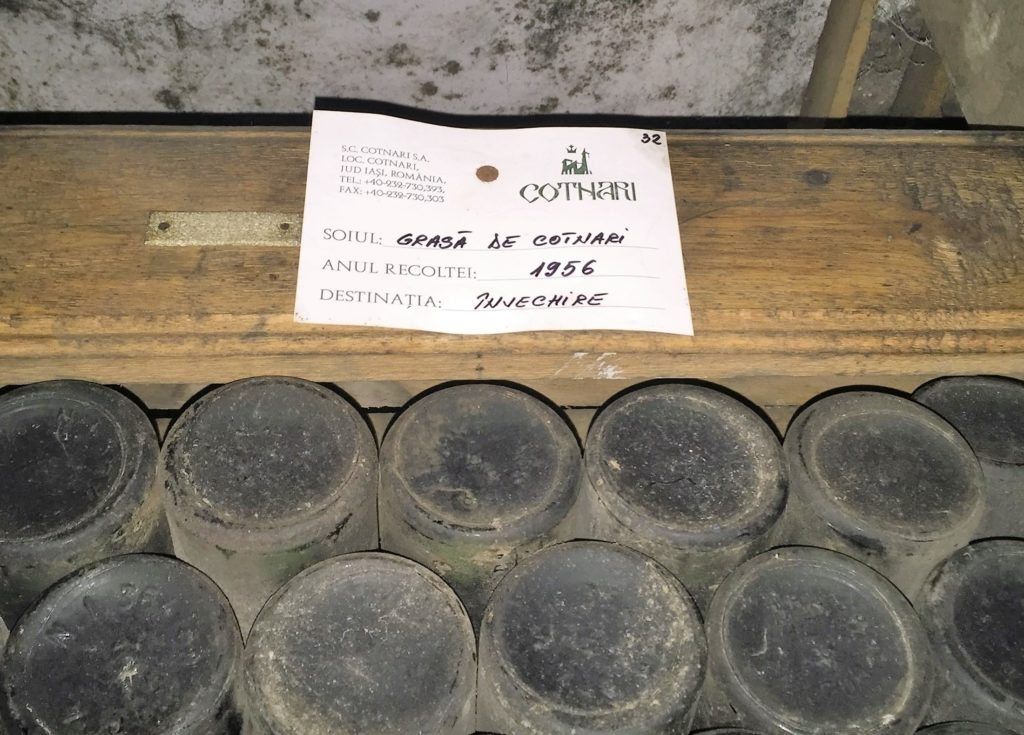 Cotnari tasting notes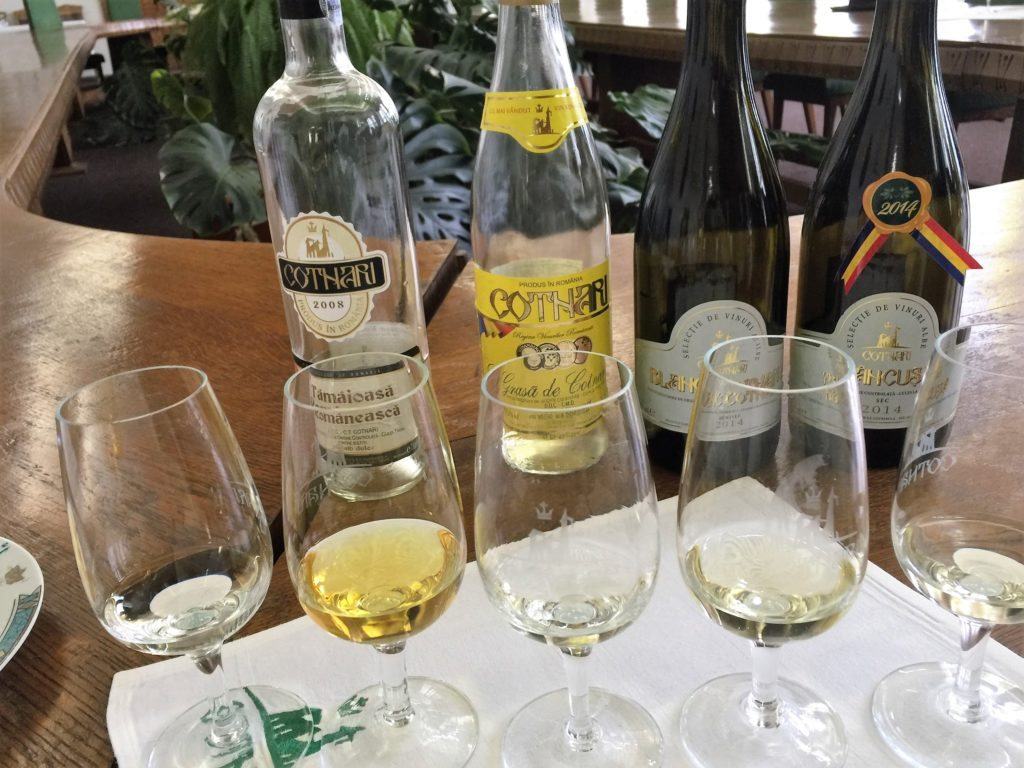 I tasted five wines at Cotnari. There was nothing memorable in the tasting with one exception, a Grasā de Cotnari from 1989.
Only the first wine, a Frâncușā de Cotnari was dry, with youthful aromas of peach, grape and flowers, with bitter almond on the palate. It is good, making it a pleasant alternative to similar quality Italian Pinot Grigio, Soave, Gavi or Arneis. Unfortunately, they target with the large bulk of production the affordable, plonkish sector, where competition is fierce. (Matthew's note: I didn't go on this visit but I enjoy the Frâncușā a lot. It's more to my taste than Mirela's. I like fragrant, aromatic wines and for the price, this is definitely good value.)
Grasā de Cotnari 1989
60g/l residual sugar, ~£20
Tasting notes: sweet, high acidity, deep cold colour, full body, pronounced aromas and flavors of vinyl, orange peel, honey, honey comb. Medium (-) alcohol and long finish. This wine is developed, full of aromas and flavours imparted by botrytis.
Vincarta rating: Outstanding

Visiting Cotnari
You can visit Cotnari in a group of at least 10 people. Different packages are available, the minimum with the tour and tasting is 20 €/ person. However, if you come with a smaller group, you still have to pay the price for 10 people. Staff speak English and are very friendly and knowledgeable.
Vladoianu Castle, Hills of Cotnari and the feature image courtesy of Cotnari.