Canned wine? Wine in a can?
We can't quite believe it either.
Yes, as recent trends suggest, wine is no longer confined to glass bottles. And it seems to be striking a chord with many wine drinkers.
Last year, US canned wine sales jumped 69 percent to more than $69 million, totalling 739,000 cases, according to Wine Spectator. That's up from just $2 million in sales in 2012.
This trend is only set to spread amongst the globe – including our good old Blighty – to help bring convenience to wine fanatics everywhere. (Or should we be saying wine canatics?)
We like the satirical note that Underwood, an Oregon canned wine producer, strikes in this video. Perhaps the best argument in favour of canned wine is to see it as a kind of anti-snobbery.
But why has canned wine become so popular? Is it merely a passing fad or something much, much bigger?
Let's find out.
Is canned wine good quality?
It's probably true to say that the canned wine you'll find in your local supermarket won't be the best quality wine on the market. It may be convenient but it's not going to rock your world.
That said, there are plenty of small, high-end wineries that are turning canned wine into their craft, including these eight US offerings. Or these guys…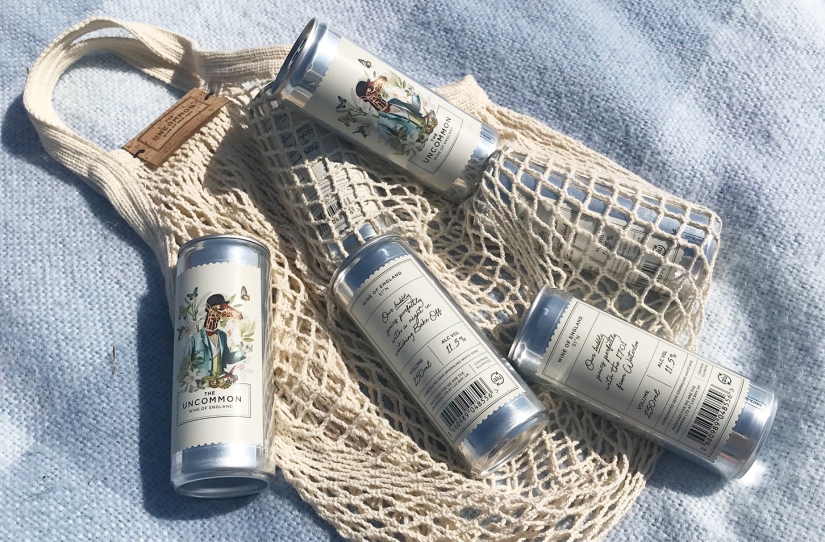 'We [English wine producers] all have the same goal. Ultimately, we are making really good English wine – it just happens to be in a tin for environmental and convenience reasons.'

The Uncommon, an English wine producer
Although we haven't tried any ourselves, we're sure these canned wines taste as good as the internet says they do!
As with screw caps, wine in a can won't ever suffer from cork taint, so that's benefit.
Does the metal can make the wine taste different?
The short answer: no, aluminium cans don't necessarily change the taste of wine. They can sometimes, however, mute the intensity of the taste. Some wine producers even add extra sugar to help maintain its original qualities.
Just in case, we recommend pouring out your canned wine into a glass where possible to ensure you avoid any metallic aftertastes. (Unless, of course, you're into that.) This will give the wine a chance to breathe.
Can wine in a can be aged?
We would recommend drinking canned wine as soon as possible. If you're wanting to stock up for an apocalyptic-type situation, there are plenty of bottled wines that'll age better.
However, that doesn't mean canned wines can't have a vintage.
'[…] You can put high-end wines in alternative packaging, and they taste exactly the same as they would coming from a bottle.'

Gina Schober from Sans Wine
Fad or fantastic?
There are two sides to this argument. Perhaps some might see canned wine as more as an aesthetic than a necessity, but then again you could say the same about pre-sliced bread. And we all know how well that took off.
So, why can the beverage in the first place? What's the point?
To put the argument to rest, canned wine is convenient for on-the-go, pre-measured servings of wine that can be opened easily and broken not-so-easily. Ultimately, this means that you can take a glass (or two) of wine wherever you'd like, whether it's up a mountain on a hike or in the comforts of your own home. Better still, you needn't hunt for a corkscrew to open it and they're much easier to recycle.
All of this makes canned wine a firm favourite with not only millennials, but anyone who perhaps values convenience over quality.
So, have you been converted? If you happen to have tried any canned wines, please let us know!
Updated 22 December 2019 with additional videos, links and updated sales data.