Schloss Vollrads is another famous Rheingau Riesling producer. If you happen to visit this part of Germany, you are interested in wine and want to spend some time in a beautiful, romantic spot, this is a must-visit destination.
Schloss Vollrads history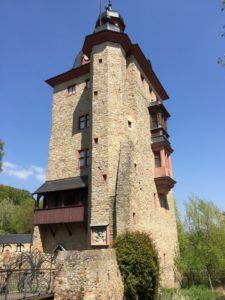 Scloss Vollrads is one of the oldest vineyards in Rheingau, with roots dating back 800 years. There is still paperwork in estate's muniment room for the sale of wine in the 12th century.
In the 13th century, they built the residential tower for the noble family Greiffenclau over Roman ruins.
The Greiffenclau family built the cellars and expanded the manor house and even hosted Goethe himself in 1814.
At the end of the 18th century, Schloss Vollrads became a founding member of the VDP (Verband Deutscher Prädikats) high-quality German wine classification.
The 20th century brought tragedy. The owner and avid ambassador for German wine, Erwein Matuschka-Greiffenclau, died on 19 August 1997. The Schloss Vollrads and winery were taken over by the Nassauische Sparkasse (a banking group) which still runs it.
It's an odd situation where the bankers make the wine rather than drink it.
Wine making at Schloss Vollrads
The Schloss Vollrads credo is: 'We believe that an outstanding Riesling makes you happy. That's why we only grow Riesling grapes – deliberately, with special care, and with love.' You can't say fairer than that.

On the 80 hectares of vines, the grapes are handpicked at the right level of ripeness every year and then made into a wine that expresses the terroir.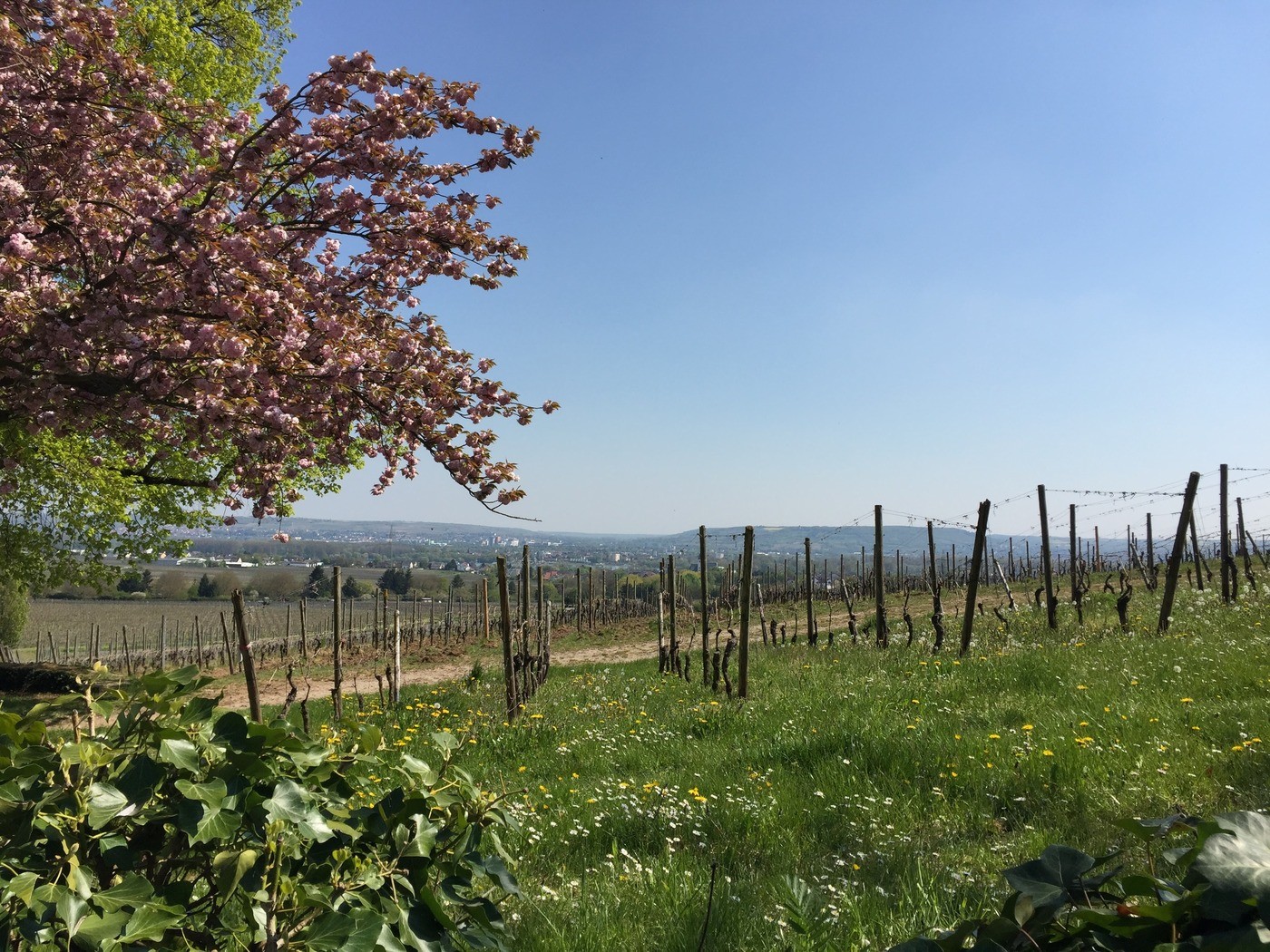 Their range includes 10-15 styles of wines each year, from the simple, fruity estate wines to quality wines range that includes Kabinett, special editions, Spätlese (late harvest) to Trockenbeerenauslese (sweet, from berries affected by botrytis), ice wine, sparkling wine and brandy.
Schloss Vollrads tasting notes
As we were interested in their best ouput, we tasted three wines.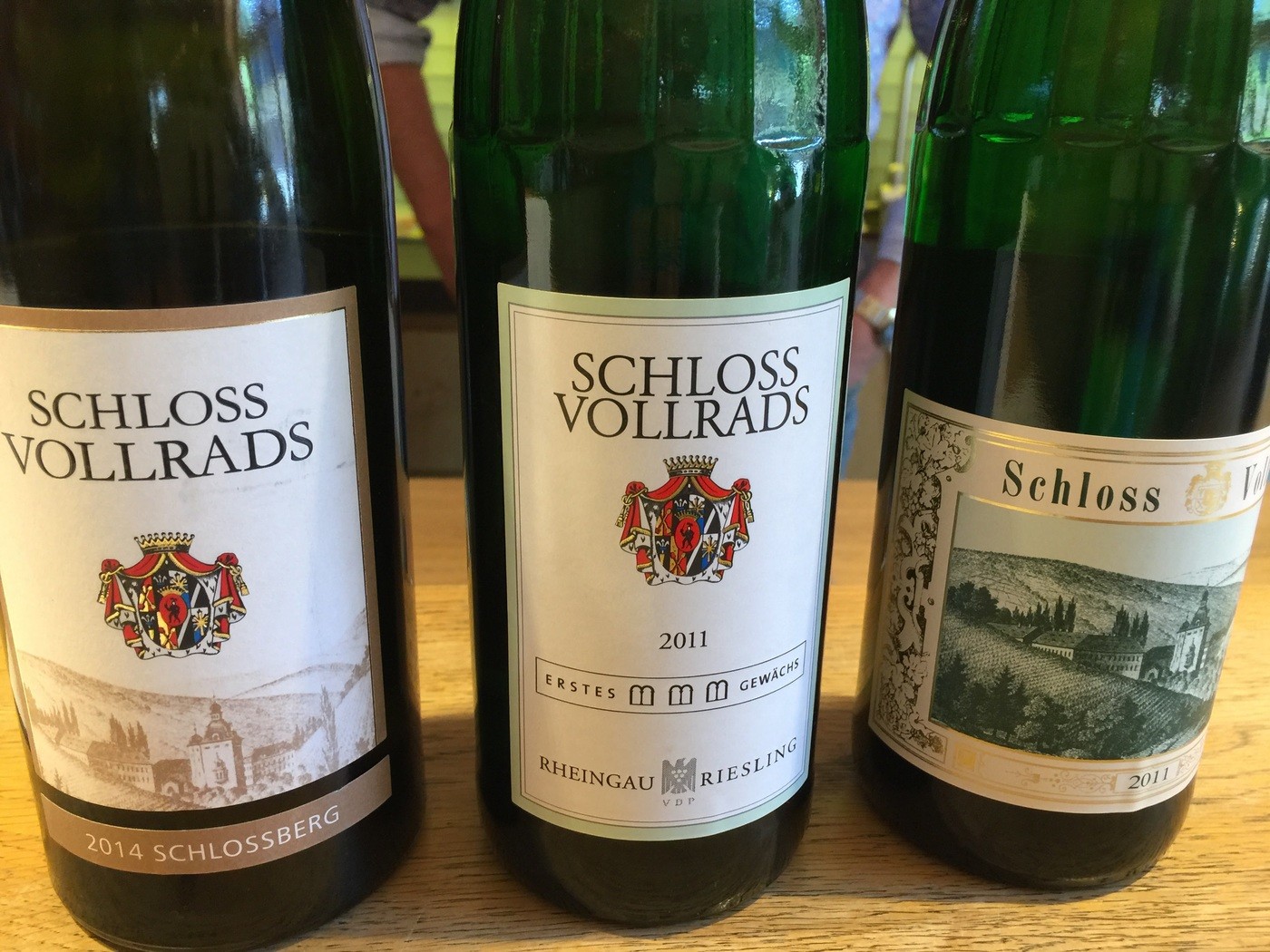 Schloss Vollrads Schlossberger Dry Riesling GG 2014
Made from grapes from old vines, with very low yields and fermented on skins. Dry, refreshing high acidity with notes of peach, elderflower, nettle, apple, lemon and almond finish. Alcohol 13% abv. Medium body, medium flavour intensity and long finish. This wine is youthful, beautiful to drink by itself or have it with seafood or asparagus dishes Rating: very good, as complexity is still to come with bottle ageing. Price in Germany: ~28€
Schloss Vollrads Dry Riesling EG, 2011
Dry, refreshing high acidity with medium (+) intensity notes of lemon, apricot, peach, honey and petrol. Alcohol 13% abv. Medium body, layers of flavours and long finish. The wine is developing, as ageing aromas have started to show, and it will develop further with bottle ageing. Lovely with fish dishes or chicken. Rating: very good Price in Germany: ~24€
Schloss Vollrads Dry Riesling Special Edition, 2011
Wine made from the very best, ripe berries from Greiffenberg vineyard, fermented on skins for a week and then left with yeast contact for half a year
Dry, refreshing high acidity, medium (+) intensity aromas of honey and petrol on the nose and herbal, savoury flavours on the palate (from the extended lees contact). Alcohol 13% abv. Long, bitter almond finish, full body. The wine is developing, as ageing aromas have started to show, and it will develop further with bottle ageing. I would have it with rich white meat dishes (fish, chicken, turkey). Rating: very good Price in Germany: ~35€
Wine castle
The location and the ambience are very romantic. We enjoyed our visit: pretty gardens, lovely old buildings, good weather, interesting wine conversations and great wine.
At the end, as we sat outside to finish writing our notes, the head of private sales came and gave each of us to try a glass of young and fruity Kabinett, perfect for the beautiful day.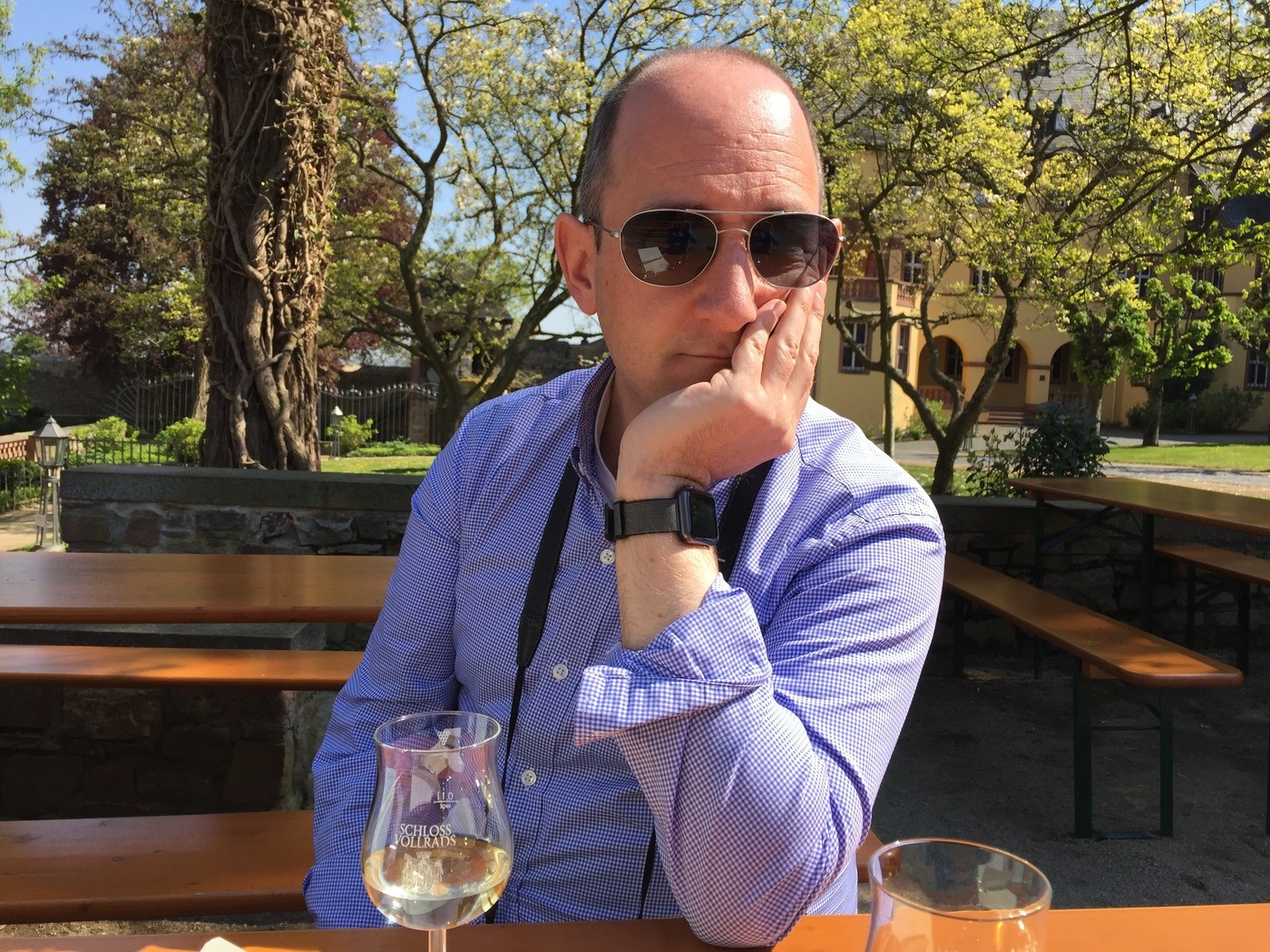 If this were in, say, Napa Valley, there would be busloads of tourists. When we visited there were perhaps 5-10 visitors over the course of an hour. It made the experience much more pleasant.
In Germany, as in Austria the next day, I got the impression that was that wine is for connoisseurs, with little done to promote wine tours and wine knowledge. I think this is a pity, as Europe has so much to offer and the wine industry needs to make more friends.
My opinion is that people who come to visit a vineyard will promote the wine and not the wine distributors. Visitors will try the wine, can buy some and will talk about it with their friends and post on social media. To know if you like something or not, you don't have to be a wine buff or spend hours of wine studying.
Visiting Schloss Vollrads
You don't need a special appointment to visit them. The Schloss Vollrads wine-making facilities are not open to the public to visit, unless you come with a large group, but you can go and have a tasting in their shop and visit the gardens. There was no charge for an informal tasting in the shop.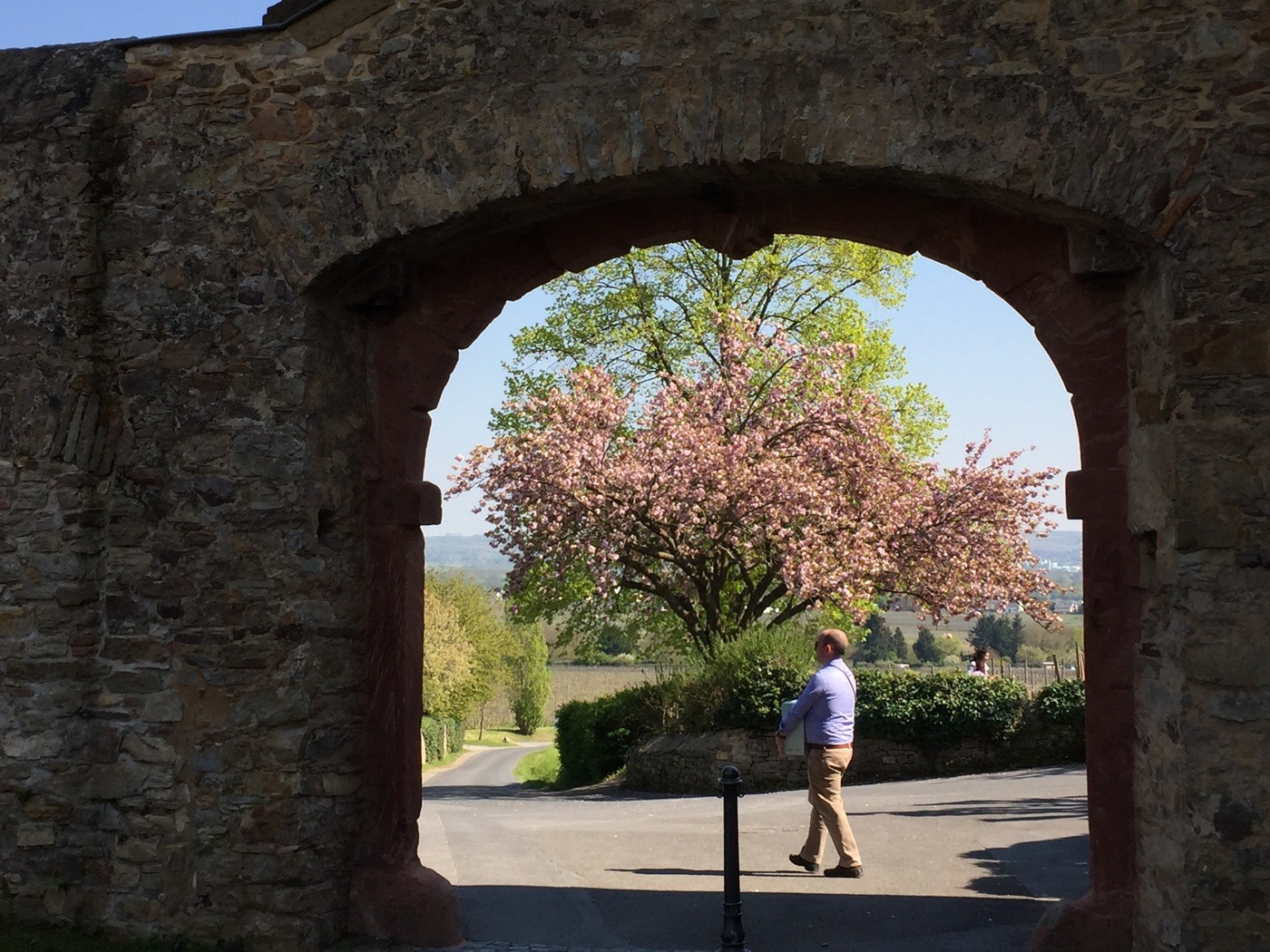 Alternatively, if you come with a group of at least 12 people and you are interested only in tasting, there are different packages available.
The staff has a very good command of English and were very well-informed about the wines. We learned a lot. As the famous Michelin guide says, it's well 'worth a detour' to visit Schloss Vollrads.