Crete has a long history of wine production, more than 60 wineries, including several world-class producers and a number of distinctive local grape varieties. It is the second-largest wine-producing region in Greece. Yet it merits only a couple of paragraphs in the Oxford Companion to Wine and slight regard from wine connoisseurs.
Crete is perhaps overshadowed by Santorini, a better-known wine island, 148 km to the North. And like Greek wine generally, it is unfairly dogged by memories of poor quality holiday wine and the Marmite love it or hate it retsina.
But we're here to put the record straight: Crete makes great wine.
This article covers the basics, drawn from a flying visit in September 2020, but the best way to discover Crete is to visit or at least buy some of the wine and try it at home.
Crete wine history
Crete has a legendary place in winemaking history and it was probably the jumping off point for winemaking across Greece. The Minoan civilisation (2000-1400 BCE) imported Egyptian winemaking techniques in the neolithic period and palaces such as Knossos had their own vineyards. One of the earliest known wine presses was discovered in the village of Palekastro in Crete.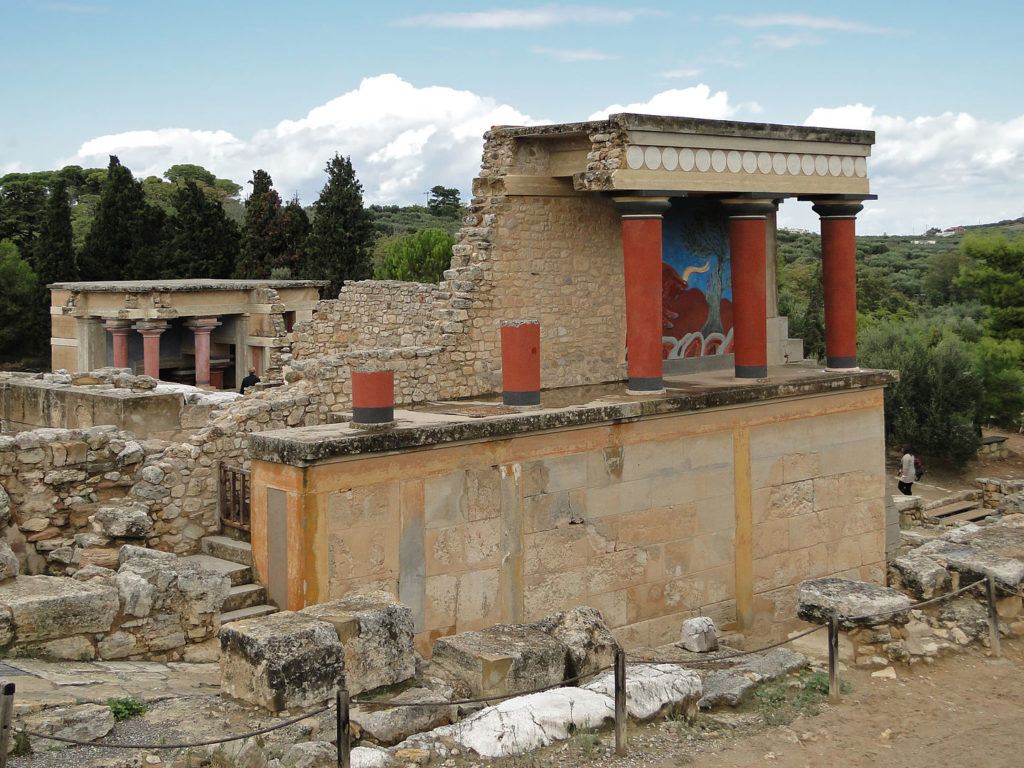 During the Roman Empire in the 2nd century CE, Crete was known for a sweet wine, protropos, which was exported to Italy.
The island continued under Byzantine rule until it was occupied successively by Iberian Muslims, crusaders, Genoese and from 1212 to 1669, the Venetians. During this period, the island was well known for the sweet Malvasia di Candia wine. The island emerged from Ottoman rule and joined Greece at the beginning of the 20th century.
When Greece joined the EEC in 1981, many old vines were grubbed up and replaced with international varieties but there is a renaissance of interest in local varieties and several near-extinct vines have been rescued and brought back into production.
Also, local winemakers have been able to travel and explore winemaking in different regions and bring that knowledge back home. For example, Manousakis has embraced southern Rhone varieties. We tasted a very good single-varietal Roussanne from that winery. Other producers, such as Lyrarakis, have embraced the latest trends in winemaking, such as low-intervention, organic, vegan and natural wine.
Geography, climate and viticulture in Crete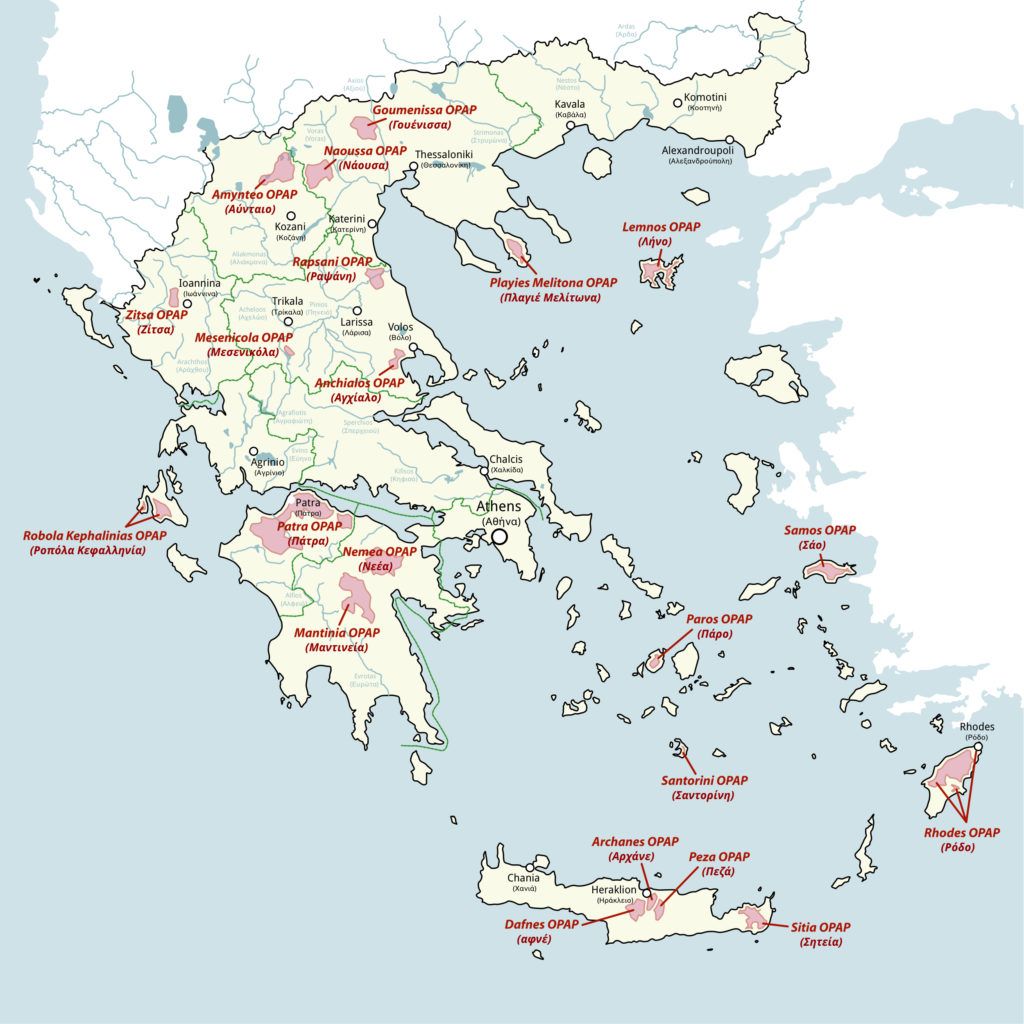 The majority of vineyards are in the centre of the island, south of the port of Heraklion, with other producers in the west around Chania and in the east around Sitia.
Crete has a warm climate but the majority of planting is above 500m, which helps to cool the vines and preserve a little acidity. Dry sandy soil kept phylloxera at bay until the 1970s and there are still many ungrafted vines. Irrigation is common.
Cretan grape varieties
Wines of Greece has a good overview of the country's different grapes but here is a brief overview based on our visit.
White grapes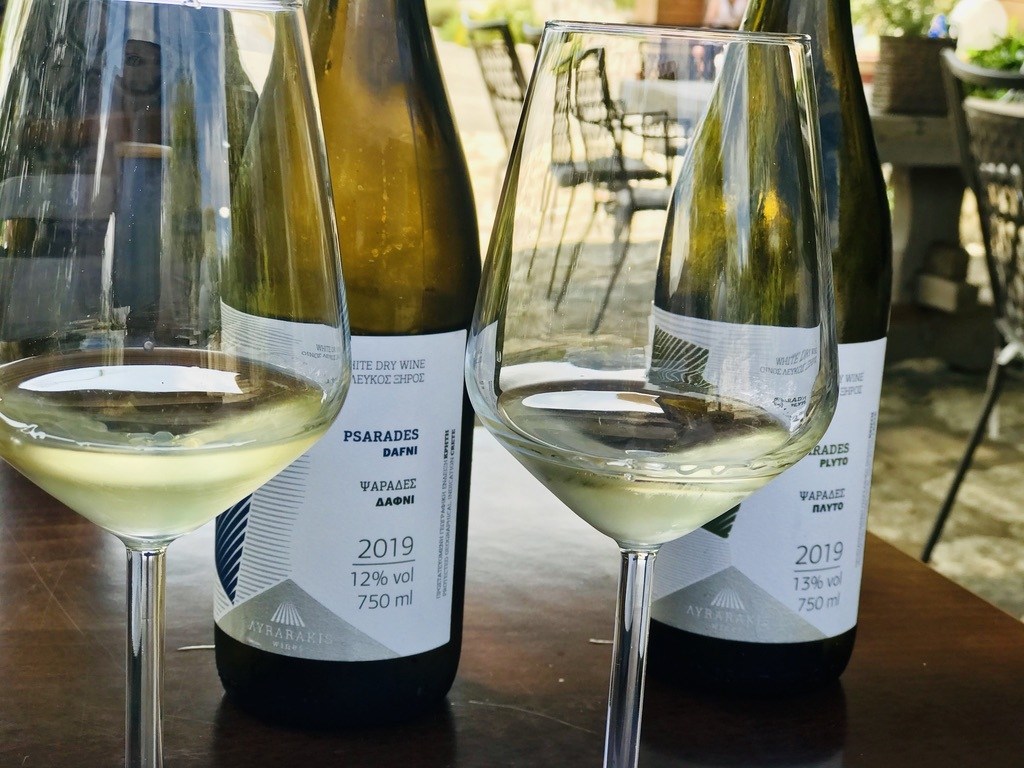 Plyto. Plyto is 'herbal, slightly grassy character with a delicate chalky, pear-grained texture and juicy citrus flavours' according to Wine Grapes. We found it perfumed and grapey like a muscat.
Dafni. An aromatic white grape variety, also rescued from near-oblivion by Lyrarakis. The name, which means 'laurel', reflects the distinctively herbal character. We tasted this once at Lyrarakis and once at a Cretan meal. Both times it was distinctively herbal, with notes of rosemary, thyme and Organo with a lemon curd citrusy note. Delicious and unusual.
Melissaki. Almost extinct, Lyrarakis discovered this grape growing in the foothills of Mt. Psiloritis and planted it in a vineyard in 2010. We tasted Lyrarakis's second Melissaki bottling from 2017 which was made with ambient yeast, no sulfur and no filtering. It was distinctive without being funky or labelled as a 'natural' wine. Outstanding.
Vidiano. As with many Cretan wines, the warm climate tends to give Vidiano ripe apricot and tropical notes.
Thrapsathiri. Andrew Jefford says that Thrapsathiri is similar in character to Albarino, with a delicate citrus and floral character and that it is oak-friendly. Mainly used in blends, both in the winery and field blends, but there are some single-variety bottlings, e.g. Lyrarakis's full-bodied version which is aged in acacia and French oak. We felt that it was similar in character to assyrtiko but more floral.
Vilana. The most important white wine variety of the island. Generally fresh and aromatic but can be bland and generic.
Red grapes
Kotsifali. Given the climate, it's no surprise that Crete wine is often high in alcohol. Even whites of 14.5% ABV are not unknown. And Kotsifali is no exception. Otherwise, 'soft, pale and potentially aromatic' according to Wine Grapes. We were told that it was traditional to bury a barrel of this wine when a child was born in order to serve it years later at their wedding. We tasted a deliberately oxidised, almost madeirised, slightly sweet Kotsifali and it worked well but I'm not sure whether decades in the ground would do any wine a lot of good.
Liatiko. This is the most widely planted red grape in Crete and it's used in both rosé and red wines. Light in colour with strawberry, red fruit and cooking herb notes. We felt that the rosés were more successful than the reds, comparing nicely to Provencal wines. The sommelier in our hotel says that she prefers Cretan rosé with meat in the summer rather than solid red wines that may be harder work in the heat. It certainly drinks well on a sunny terrace overlooking the sea.
Mandilari(a). Known as the Xinomavro of the Aegean because it is deeply coloured and tannic.
Visiting Lyrarakis Wines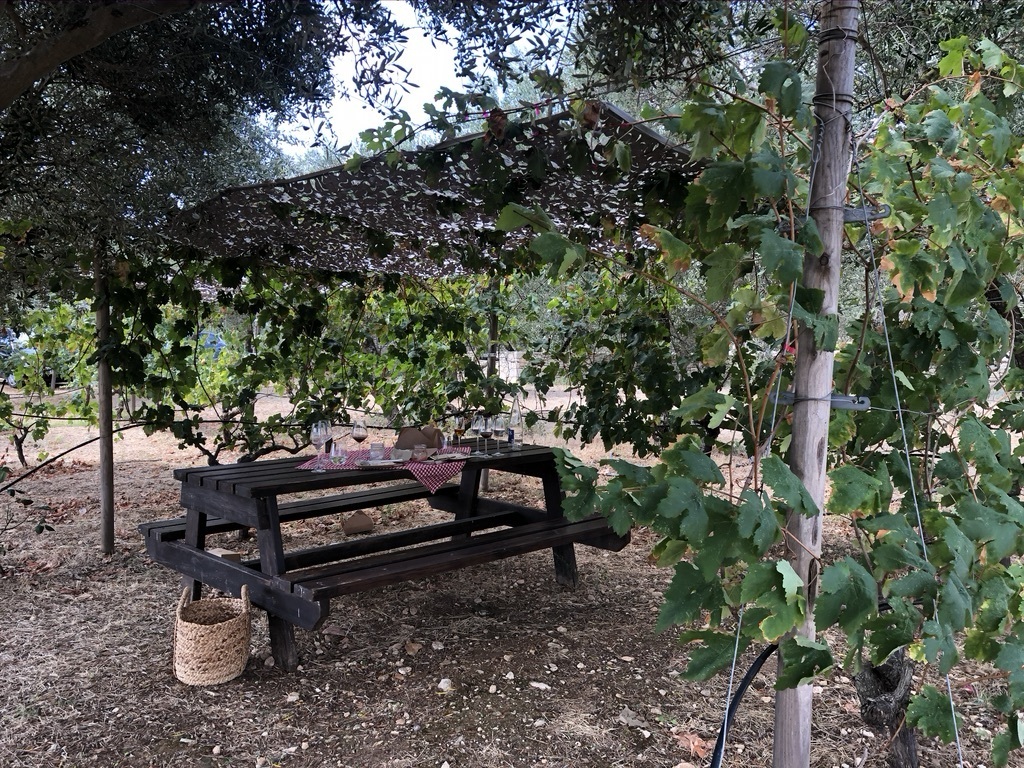 We had the 'premium' tasting which consisted of eight of their top wines and a delicious selection of dips, olives and bread for €20 each – good value. And they also offer full picnics. Our guide was very knowledgeable and was able to answer all our wine-nerd questions in fluent English. The whole thing was very Covid-safe with the tasting outside under a canopy to protect from the mid-day sun. If you choose a picnic lunch, you can eat at some lovely, shady tables in the vineyards. We particularly appreciated the nursery rows of each of the native varieties next to each other so we could see them close up.
Visiting Crete
We visited the island in September 2020. The coronavirus epidemic loomed over everything like thunderclouds over the wine dark sea but the Daios Cove Hotel managed to make social distancing a little less menacing, a kind of luxury lockdown, with wide open air restaurant terraces and a private beach. The wine list is very appealing and the food was consistently delicious. If you're coming to Crete, we recommend it.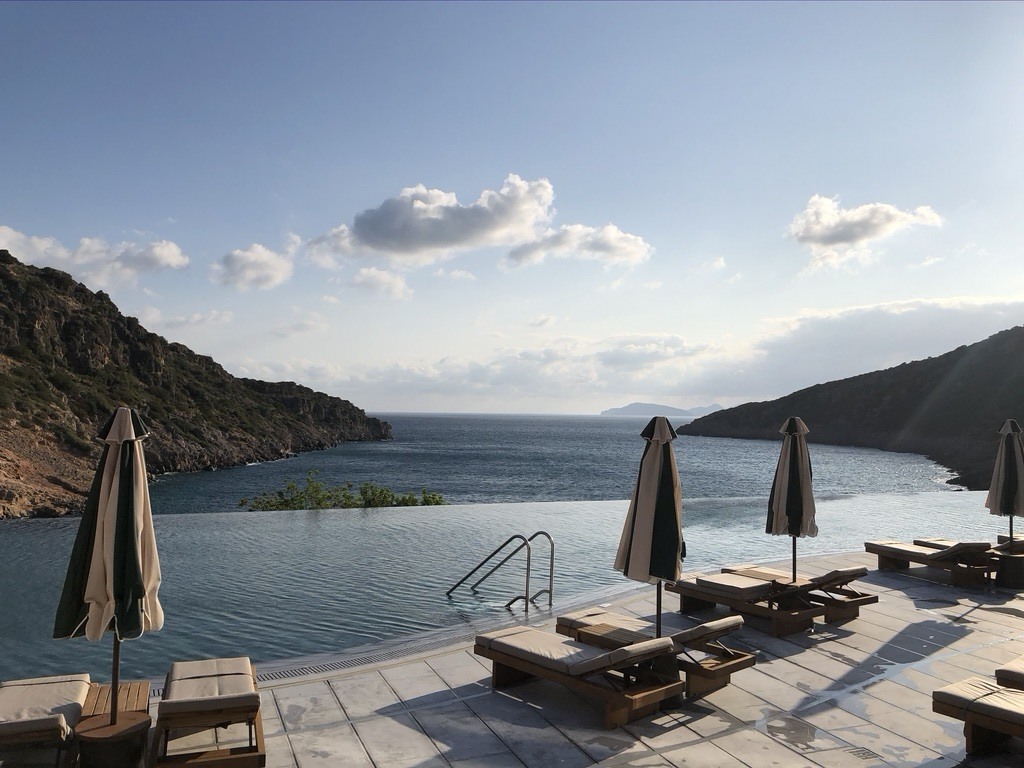 Assessing Cretan wine quality
Of course, there is the 'tasting effect' where you can be influenced by the beauty of the surroundings, the patter of the guide or winemaker and the luxury of a summer holiday. But we're trying to discount for that bias by applying the WSET systematic approach to tasting.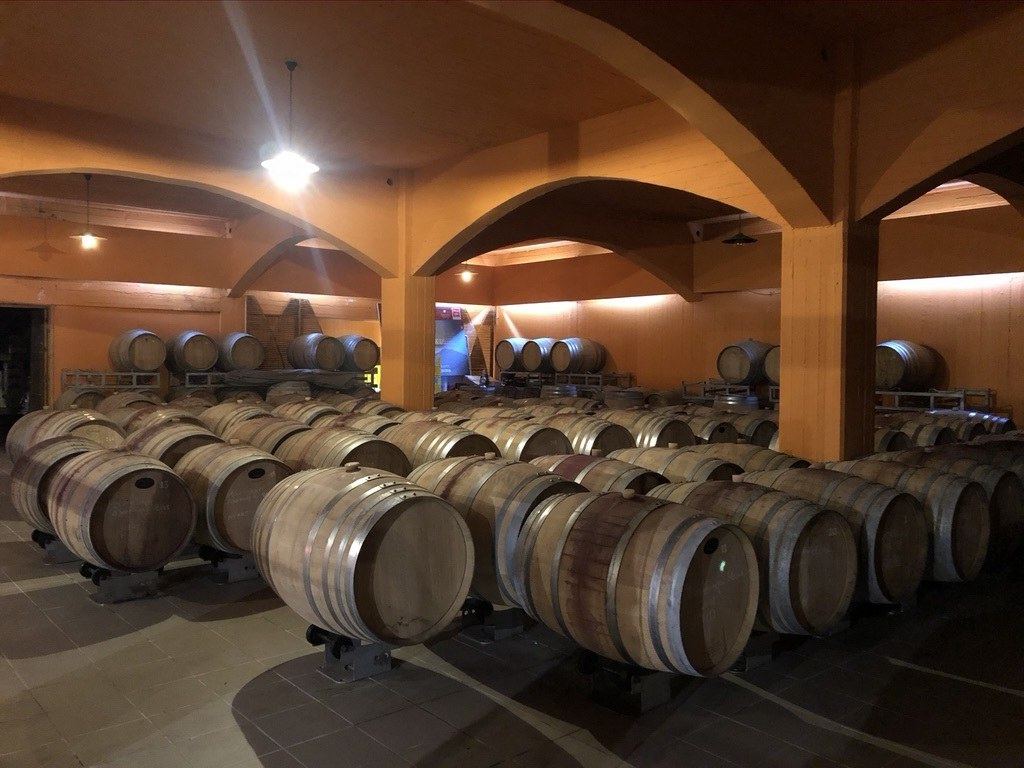 We tasted wine from five Cretan producers – Lyrarakis, Douloufakis, Manousakis, Miliarakis, and Tamiolakis. For a longer list of producers see Wines of Crete.
All of them were well made and perfectly matched with the local cuisine. Most were inoffensive, high in alcohol and (for the reds) low in tannin. They were easy-drinking, suitable for the tourist market and low-cost export.
But some were very good indeed – serious wines worth tasting for their own sake. A few were unique and outstanding, representative of distinctive grapes, producers and their origins.
There's more to Greece than Noussa and Santorini. If you haven't tried Cretan wine, we recommend it.