Madeira wine is what took us to Madeira in the summer of 2022. We first discovered the wine during our fortified WSET Diploma studies – a revelation – and we wanted to visit the island where it is made.
We're huge fans of Madeira. We've been lucky to try all kinds of classic Madeiras at 67 Pall Mall and during our studies. We respect Port and admire Sherry but we love Madeira. And we want to share our discovery. It's savoury, nutty, rich, tangy, leather, complex and, quite often, drops a fruitcake bomb on you. It is quite high in alchohol and has various levels of sweetness, from almost dry to sweet.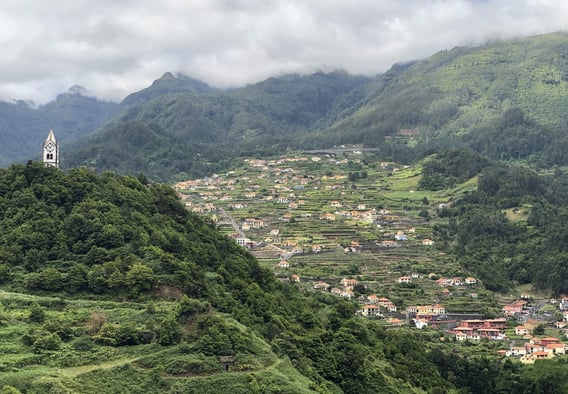 Madeira is an archipelago in the Atlantic Ocean and an autonomous region of Portugal 520 kilometres west of Morocco. Famous for an agreeable climate, Cristiano Ronaldo (who I am reliably informed is a well-known football player) and, of course, the fortified wine of the same name.
Ten essential facts about Madeira wine
It's all about history. Madeira wine dates back to the 16th century with the first grapes (Malvasia Candida) being planted at Fajã dos Padres by monks. They found that wine put in the bottom of a boat as ballast and then sailed back and forth across the Atlantic tasted better than the stuff that stayed home. They called this vinho da roda. Another accidental innovation came when Madeirans discovered that barrels of wine diluted by rain was a huge success on the American market. They called this rainwater. Fortification, i.e. adding spirits to arrest fermentation and increase the alcohol and sweetness, only became common around the middle of the eighteenth century. Fortification helps with the preservation of wine and that's why it became a popular choice during those times.
The British connection. Like Port, Madeira has a long history and relationship with the UK, and that's why, perhaps, like Port, it suffers from a reputation of being a bit old-fashioned; something out of Dickens or Porterhouse Blue. But forget that; it's having a renaissance. It's the hip, new thing.
The geography of the island is mountainous and volcanic, rising from sea level where tropical fruits like bananas grow abundantly to mountaintops that occasionally see snow. Some viticulture is at sea level but most of it is higher up, in terraces, reached by hair-raising twisty hillside roads. Most grapes grow in the south west, at 200-800m altitude, as the weather in the north is slightly humid and cooler. There are just 450 ha under cultivation and some varieties are produced in tiny, tiny quantities. There are just 4 ha of Terrantez, for example. We are not talking about vineyards on plots and hectares, as you see on the continent, but sometimes about rows of vines.
The grapes. Quite a few different grape varieties grow in Madeira but the most notable and prized are, in order of increasing sweetness: Sercial ('The Dog Strangler'), Verdelho, Bual (Boal) and Malvasia ('Malmsey') and then there are some rare grapes including the delightfully-named Bastardo and the vanishingly rare Terrantez. The most common planting is Tinta Negra. If a bottle has a variety on the label, it should account for at least 85% of the contents, but this is a relatively recent regulation. Most Madeira would be Tinta Negra, so look for the grape on the bottle if you want to try the notable ones.
There isn't a lot of it about. Total Madeira production is small: they only sold 3.1 million litres in 2021. By contrast, one company – Gallo, the world's largest winemaker – alone makes more than 70 million litres of wine each year. Europe's largest single vineyard has ten times the acreage under vine than the whole of Madeira.
The climate. Added to a challenging terrain, the average temperature of 19 °C and pretty constant rainfall make it a 'difficult place to grow grapes' as the Oxford Companion to Wine says. Pergolas and more recently vertical shoot positioning plus altitude make it just about possible but disease and ripening are challenging.
Cooking wine. Most Madeira wine is made using the estufa method from blends of different grapes with Tinta Negra predominating. Essentially, they just cook it in big stainless tanks to give the typical oxidative and aged characteristics. France and Belgium consume a lot of this basic wine for cooking. If a bottle doesn't display a vintage date or an age statement, you can assume that it was made using this method.
Quality Madeira is produced using the Canteiro system. Here, wines age in barrels in warehouses for 5, 10, 15 or more years. Some warehouses are very picturesque; others not so much but that makes no difference to the quality of the wine. Wines with an age statement are blends aimed at achieving a style consistent with the label. If the bottle has a vintage year on it, it's called a frasqueira (over 20 years) or colheita (from a single vintage and aged in barrel between 5-18 years), and it must be made from a single grape variety. Broadly speaking, the older it is the more complex and better it will be. We learned that once bottled, the wine doesn't age anymore. That's why, on age specified Madeira bottles, you will always see two dates: the date of the bottling and the date of the vintage.
Table wine from Madeira is called 'Madeiran Wine' to differentiate it from the fortified Madeira. Production is relatively small and challenged by the climate to overcome natural acidity – there's a reason why Sercial is called the dog strangler grape. We visited Terras Do Avo and Quinta do Barbusano. Both have lovely tasting rooms with amazing views. Of the two, the Terras Do Avo edged it on quality.
Charmingly, Madeira production is regulated by the same body that oversees Embroidery: the Institute of Wine, Embroidery and Handicraft of Madeira or IVBAM.
Tasting, serving and pairing Madeira
Madeira is practically indestructible. We have tried fresh-tasting, but sludgy-looking, Madeira from the 1880s. You can keep bottles almost indefinitely and, once opened, it's still drinkable after a year. Most wines stay fresh for a few days at best once opened but everything 'bad' that can happen to a wine has already happened to Madeira: it's oxidised, it's aged and it's been heated (literally 'madeirised').
It offers the tantalising possibility of being a 'birthday wine'. Older vintages are still available but increasing in price and becoming harder to find, even on the island. We were able to get bottles from the 1960s and 1970s to match our birth years during our visit but prices were up in the hundreds of euros per bottle. Still, try buying a 50-year-old Bordeaux that is still drinkable for any kind of reasonable price.
The drier styles benefit from being lightly chilled before serving. You may want to decant very old vintages but it is not usually necessary.
Despite its reputation, Madeira is not just a 'pudding wine'. It can have remarkable complexity, satisfying savory character and all the acidity you want to balance out any residual sugar. When it comes to food pairing, you can drink it with anything.
It has a dry finish so it goes well with any desert without being either too sweet or not sweet enough. You can, and we do, enjoy it as an aperitif or a post-prandial philosophical wine. We especially love it with cheese.
Places to stay
We stayed at Reid's Palace, partly drawn by the TV show Amazing Hotels. It's a storied and famous place. Churchill stayed there once and they don't want you to forget that. But once you look past the nostalgia vibes, the hotel itself very welcoming and hospitable. They made a friendly fuss over my wife's birthday, for example.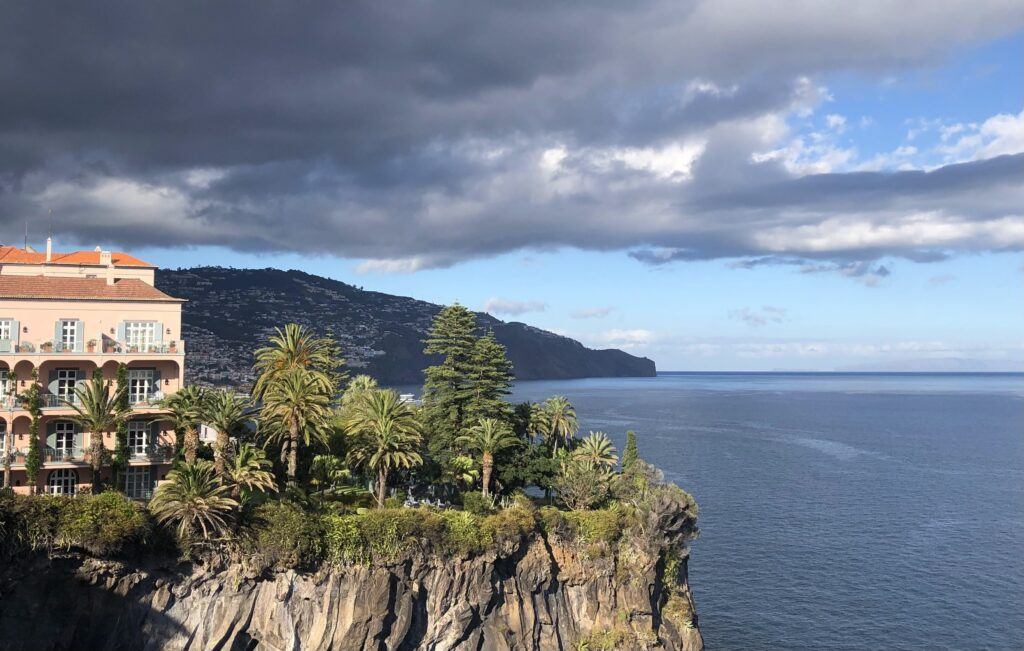 Our suite was spacious with two gorgeous balconies, one looking towards Funchal and the other towards the gardens and ocean. It was quiet despite being close to reception – the only noise came from the elephants occasionally lumbering about upstairs. The bed was very comfortable and the bathroom had lovely, traditional tiles. We loved the breakfast, especially once we figured out how to walk through the beautiful gardens to get there.
They have a lift and stairs down the cliffside to the ocean and the saltwater pool. We liked to sit down there and read and swim.
For a more modern alternative, we liked the look of The Savoy Palace and PortoBay and especially Les Suites there.
Top Madeira producers
We visited three producers.
Blandy's
They have a picturesque lodge in the centre of Funchal which does a good tour and tasting. They also have a vintage room tasting, with a lot of old Madeira to try. It's a good place to start on your Madeira adventure as it provides a good introduction to Madeira production. Plus lots of Insta opps, if that's your thing.
Barbeito
In stark contrast, Barbeito is a very modern winery with stainless steel tanks and estufas galore. I'm pretty sure Blandy's has something like this too, tucked away inland, far away from the tourists. Happily, there's a small tasting room, a gift shop and plenty of parking. It's near to Cabo Girão and worth a stop en route. They stock single varietal Bastardo bottles which is worth buying for the rareity but not, because of the price, as a gift for your enemies! We rather stocked up on the Bastardo and other wines and, as we left, the man in the shop poured us a sneaky, behind-the-counter sample of their €600 per bottle, 50-year-old blend, which was truly outstanding. It got 100 points from the French.
Henriques and Henriques
On our way back from a disappointing visit to Câmara de Lobos (see below) we stopped off at Henriques and Henriques, which has a nice tasting room and a generously-stocked wine shop. Worth a visit to check out their wine library which had some of the oldest Madeiras that we saw.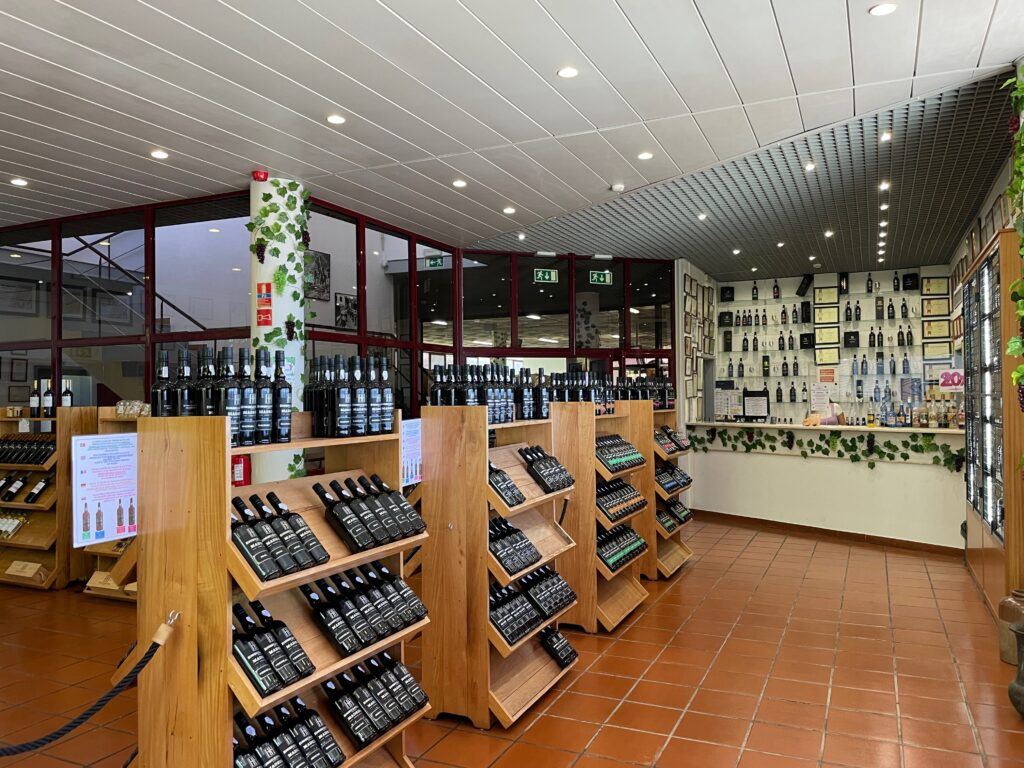 Things to do and places to go
While we were on the island, we enjoyed a day-long wine tour. You can indulge as much as you want while someone else deals with the hairpin corners and narrow mountainside roads. This also opened the doors to Terras Do Avo, which is not normally open for walk-up visits.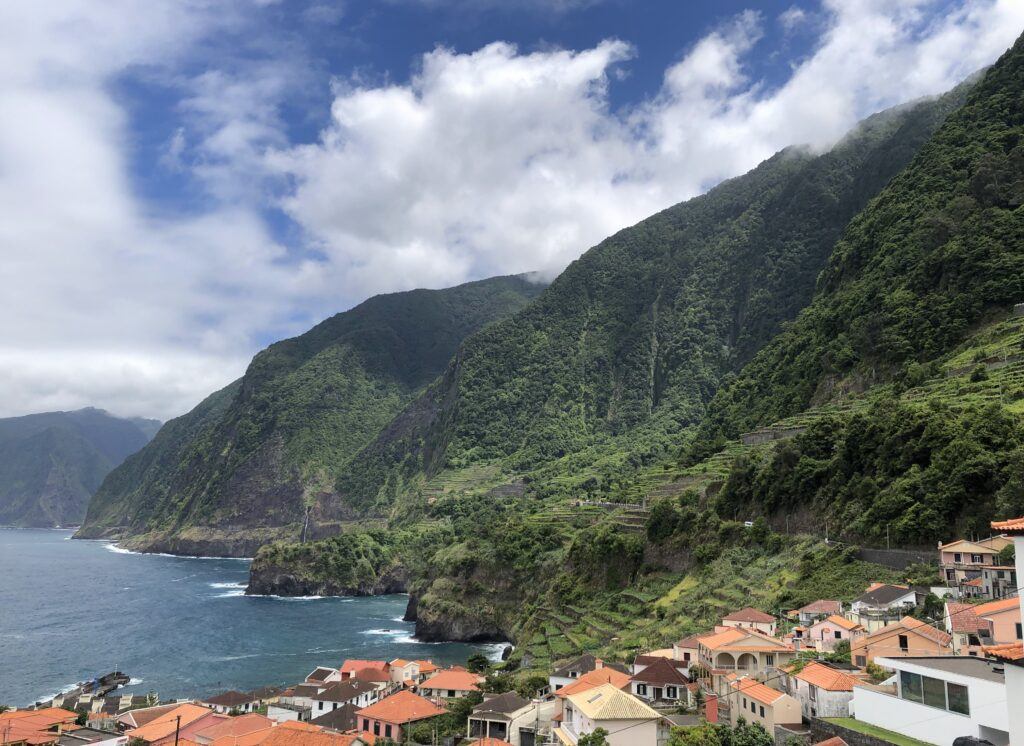 There are some delightful places to visit. We enjoyed the Monte Palace Tropical Gardens (but give the cafe a wide berth – the coffee was vile and went straight to the bin). Funchal is pretty with very quaint shops and streets in the historical centre. Cabo Girão is a delight for people who do not suffer from vertigo. It's 589 metres (1,932 ft) cliff above sea level and you can look all the way down from the glass-floored walkway. Faja dos Padres features a cable car down to a little seaside village. You can swim on the pebbly beach and there's a touristic restaurant for lunch. It's worth a visit but not a whole day.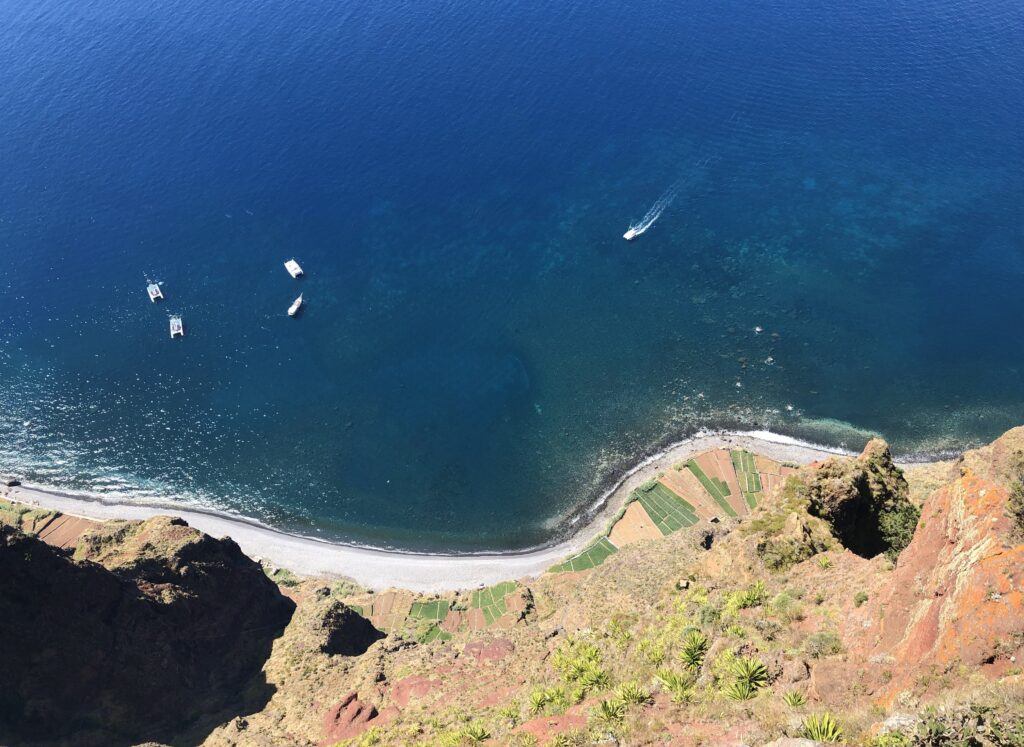 Don't bother with Câmara de Lobos. Churchill may have painted a picture there in the 50s but I bet he didn't have to deal with parking problems, crowds of tourists and acres of concrete. Not quaint.
We mostly enjoyed sitting by the sea, enjoying the view, going with the flow and occasionally taking a dip.
Top restaurants and fine dining
William Restaurant
There are two Michelin-starred restaurants, both within easy walking distance of one another. William is in Reid's Palace itself. It has one Michelin star but three-star views over the sea towards Funchal. The service was formal but the staff were very friendly and charming. There weren't so many people when we were there and we had a lovely view from our table, in contrast to the overrated and overbooked afternoon tea at the hotel. We enjoyed the meal very much, especially the inventive touches like the carrot soup made with a siphon.
Gallo D'Oro
Then there is the two-star Gallo D'Oro in the neighbouring Porto Bay hotel. The menu here was more poetic than descriptive but the food combined local ingredients, a sensitivity to place with the inevitable foams, powders and scientific refinements of ambitious Michelin-starred restaurants. Some of the courses were remarkable and well worth the price of admission, including the tuna tataki with dashi jelly or the lobster wrapped in avocado sheets and gazpacho balls.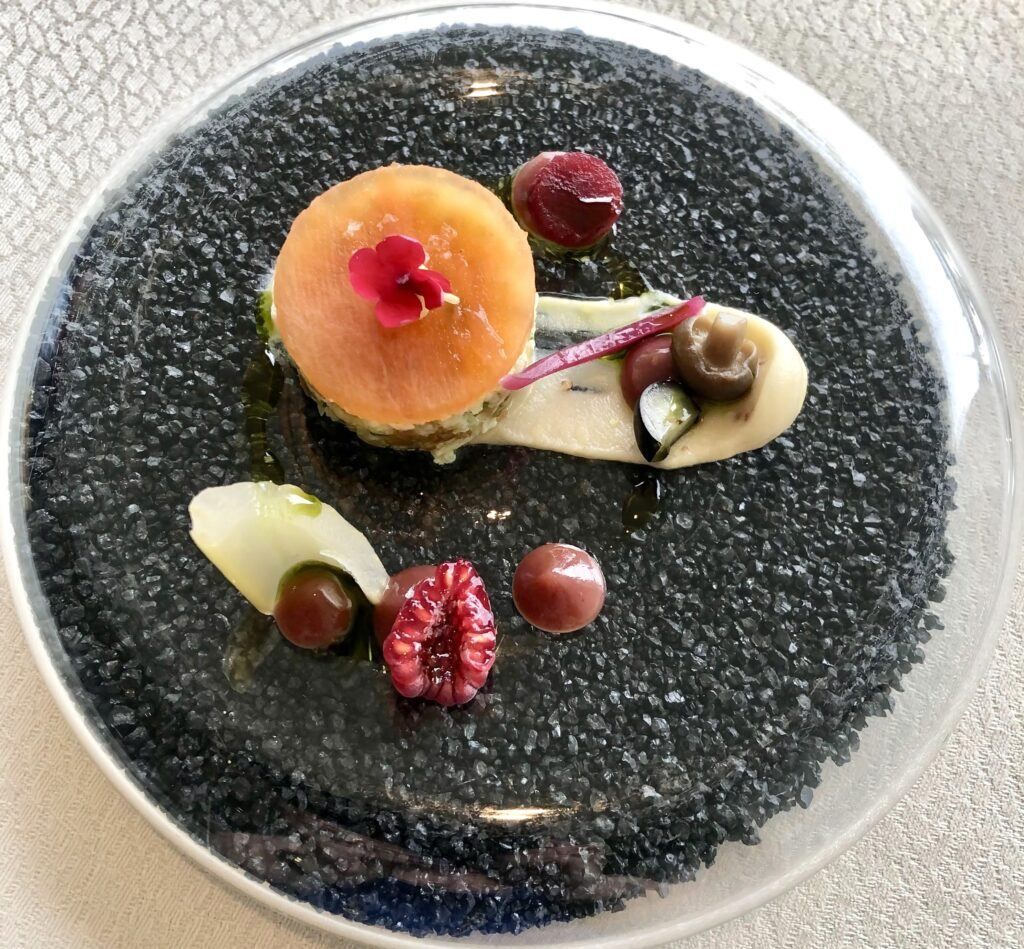 Fine dining in Madeira
We had some delicious meals without all the cost and theatre that goes with Michelin stars at Restorante Villa Cipriani – a fine-dining Italian restaurant next to Reid's – and TERRA Food Concept in the old backstreets of Funchal, which we really liked. We also went to Avista, again part of Porto Bay, where we had Sushi on the terrace with beautiful views and some mellow DJ beats.
Afternoon tea at Reid's Hotel is famous and traditional. It is the first thing people ask about when you say you are going there. The tea, cakes and sandwiches were spot on and would be familiar to anyone who has had high tea in a top London hotel. But we were conscious that our suite had a much nicer view than the back row table on the tea terrace and, looking back on it, we would probably rather have just had tea in our room. It's funny what expectations will do to a perfectly delightful experience
Top three reasons to visit Madeira
Here are our recommendations:
A unique island. The combination of the geology, the climate and the subtropical flowers and plants makes Madeira unique. There are amazing views everywhere. You can take a cable car up to a tropical garden or down to a beach.
The wine. Madeira is one of our favourite wines and a rare, special eccentricity in a world of increasingly homogenised, me-too international wine styles. In Madeira, it's easy to explore the wine and buy old vintages direct from the producers. For us, it deepened our experience of the wine and made it more enjoyable.
Relaxation. There's plenty of swimming, both in a pool or in the ocean, and plenty of walking to do. There are extraordinary sights to see. But everything is on a human scale – you can drive from one end of the island to another in an hour or so and the capital, Funchal, is easy to explore on foot. There's enough but not too much to do. And if doing nothing is your goal, there's plenty of that available too.