The first time I set foot on Santorini was nine years ago, coming for a one-day boat trip from Crete. I fell instantly in love with the island and it was always on my radar for a longer return visit.
Welcome back to Santorini
In September 2015, it finally happened. I think a part of my soul will always stay in Santorini, blending with the volcanic sand, the smell of the food, the wine and the beautiful topaz sea.
As a wine student, preparing for the WSET Level 3 exam, I decided to take advantage of my holiday in Santorini and practice tasting. It was also a great opportunity to learn more about Greek wine.
I think that there is no better way of gaining knowledge about wine than actually doing tasting sessions and visiting the vineries.
Roll out the regular carpet
Visiting vineyards as a normal person – a tourist, even – is a different experience than you'd get as a wine writer, critic or buyer. To a wine professional the winery would present their best and would try to impress. It's a little bit like restaurants that try to get a Michelin star and catch the eye of food critics.
But Matthew and I were just a couple of regular punters and this blog is addressed to all the other 'regular people' who love wine but don't get the red carpet treatment.
But you know what, they say that you see the true beauty of a woman in the morning, with no makeup and this is the type of experience I would like to share with you, because in the end, the public makes or breaks a product.
Introduction to Santorini wine and grapes
Firstly, let's explore the island and the grapes we can find there.
Besides being a gorgeous place and a perfect holiday destination, Santorini has a volcanic, arid soil. Driving through the island I was wondering: how on earth is it possible to have agriculture here?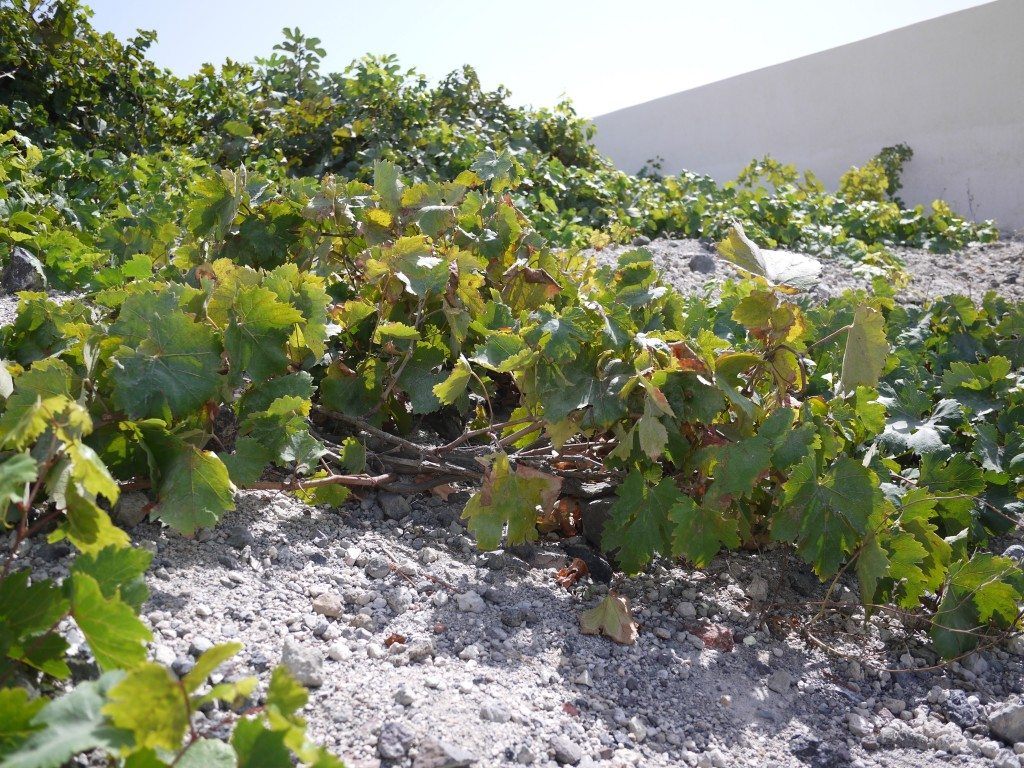 Morning mists provide enough humidity for vines and small tomato bushes. The roots are forced to go deeper and the water stress they are subject to makes the plants concentrate flavours and nutrients. The vines are ancient, many of them having roots which are more than 100 years old, with some of them having reached the venerable age of 400 years.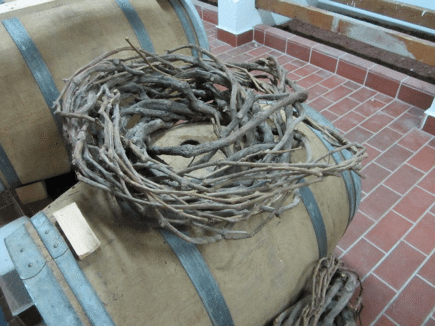 How is this possible, given that most of Europe's vine population was wiped out in the 19th century due to phylloxera infestation? The answer is in the soil composition. Apparently the microscopic phylloxera pest doesn't survive in this type of soil.
Another hazard is the island's strong winds, which can tear apart the vines. Growers on the island weave the permanent wood of the vines into the form of a basket which grows close to the ground and protects each year's new growth.
It is fascinating to see these baskets and the small bushes where the vines grow. Santorini vines remind me of bonsai trees.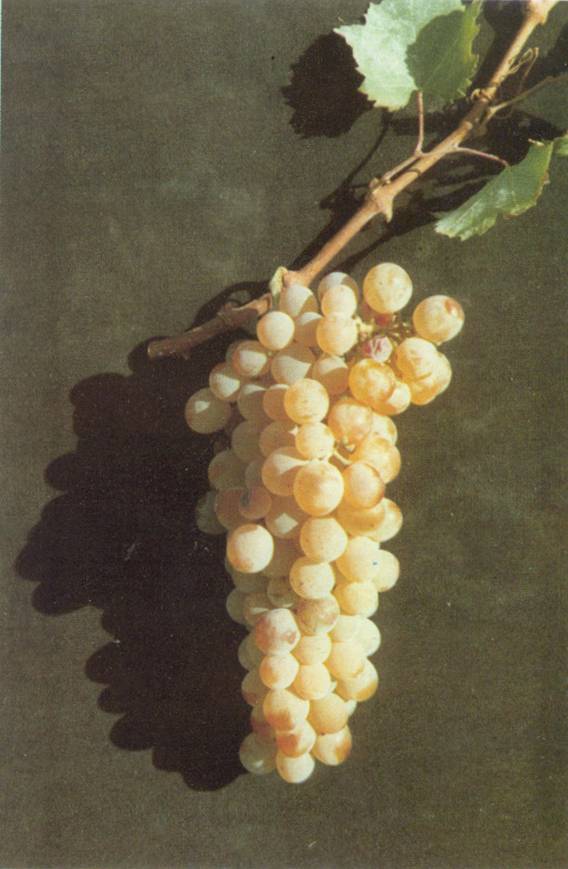 It must be back-breaking work to prune and harvest with the vines so low to the ground. All the work in the vineyards needs to be done by hand, in what I would call highly physically demanding conditions.
Mighty Assyrtiko
So, seeing all of this, I could not help but picture Santorini wine like a Greek warrior, forged in the heat and the aridity of the island, full of volcanic passion and watered by the sweat of the workers. And I think that this is a very romantic description of what you would expect from the main grape in Santorini, the warrior king 'Assyrtiko'.
Assyrtiko represents about three quarters of the Santorini planting. It is a white grape, strong, productive, resistant to draught and fungal diseases. However it has the potential to produce high quality wines, which retain their acidity, despite the very hot conditions. It is also versatile, as can go through different wine making techniques: from simple, as nature intended, without needing oak, to barrel fermentation and oak ageing.
If I look at my tasting notes for the straightforward assyrtiko wines, I see notes about steely minerality, saltiness, lemon, grapefruit, gooseberry and bitter herbs, blended with mouth-watering acidity and high alcohol. For me, it was like a blend of Chablis (chardonnay), albariño and New Zealand sauvignon blanc. Perfect with fish and seafood dishes.
There are other white grapes on the island, like athiri and aïdani which are sometimes blended with assyrtiko, but in my opinion, they do not rise to the same standard.
The reds: mandilaria, mavrotranago and voudomato
Red grape varieties include mandilaria, mavrotranago, voudomato. Although I adore red wine, strong, tannic, full of character, somehow the red wines I tasted in Santorini did not please my palate. I found them too young, with too much harsh, astringent tannin.
Vinsanto: the classic sweet wine of Santorini
I must also mention the island's best sweet wine, Vinsanto. It is made from late harvest, sun dried grapes, a blend of assyrtiko and aïdani. The wine is aged in oak, for many years, obtaining a reddish, caramel colour from the oak and slow oxidation.
Visiting wineries
Matthew and I visited three wineries during this trip:
Santo Wines
Domaine Sigalas
Gaia
We decided not to go to an epic five-wineries-in-one-day tour. At that point, blind tasting gives way to blind-drunk tasting. Instead we visited one vineyard a day and practiced our tasting skills.
In my opinion, whatever a winery shows to the public in the wine tasting is like their business card or elevator pitch – the first and best chance to impress a potential buyer. No matter how much or less a person knows about the wine, anybody can tell what they like and don't like.
Quantity vs. quality
As an overall observation, I found the tendency in all three wineries to focus on number of wines offered for tasting, rather than a small, best of their quality sample that can trigger a 'wow factor'.
In Santorini, quantity seemed to outweigh quality. We were offered tastings with 12 or 18 wines, compared to six or eight wines in a flight during our visit to Napa.
As I believe that life is too short to be spent drinking poor or average wine, I will only write about outstanding and very good wine. The rest can stay in anonymity.
Next, let's take a look at the some of incredible Santorini wine makers.
Gaia Wines
Gaia Wines is very scenic location, by the sea, under the shade of trees, where visitors can enjoy the wines and some nibbles. Heavenly.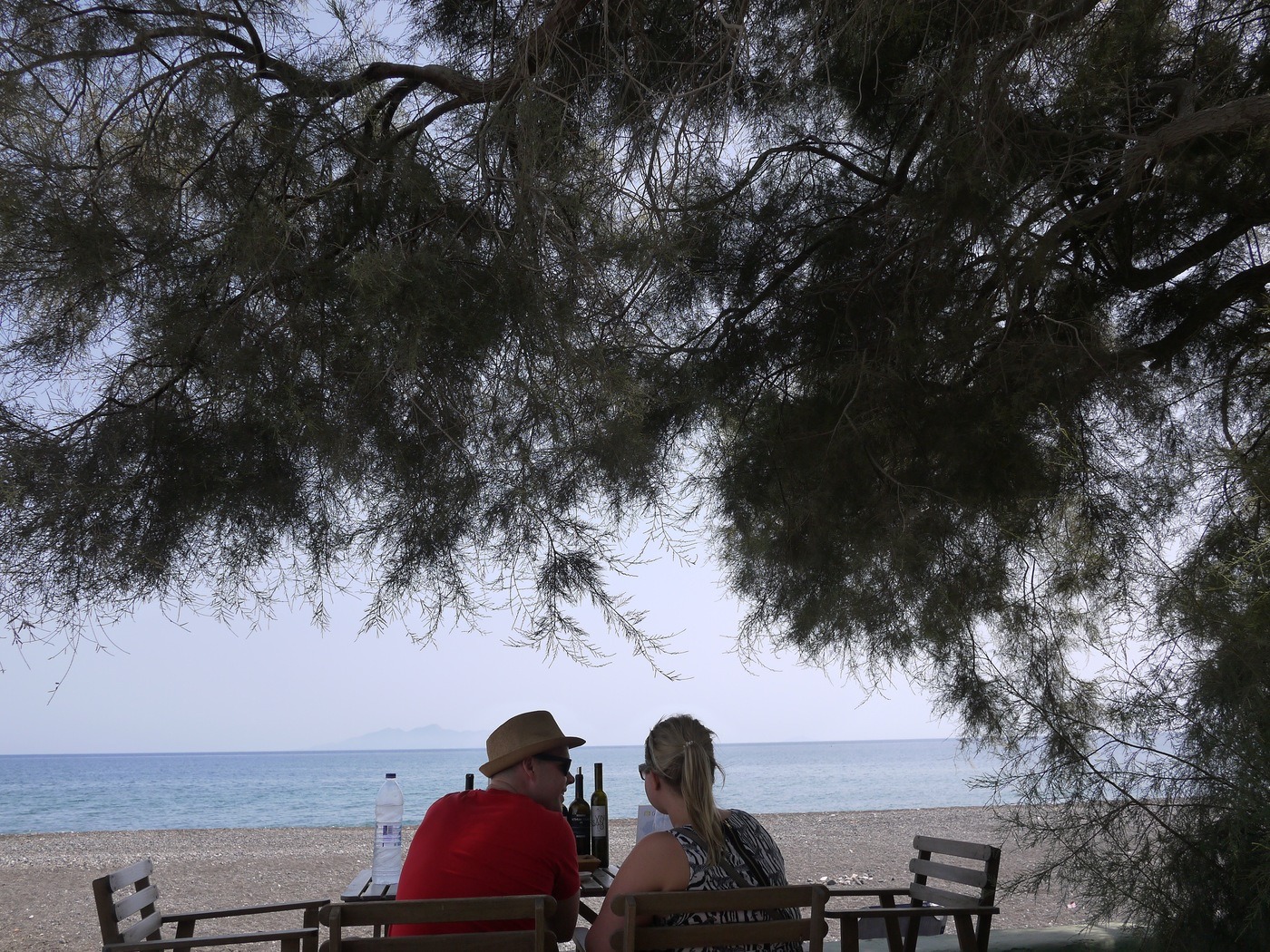 Tasting by the beach
For wine lovers who also drive, it was the only winery that provide spittoons. In their package, you could also have one of their staff teaching a small wine class.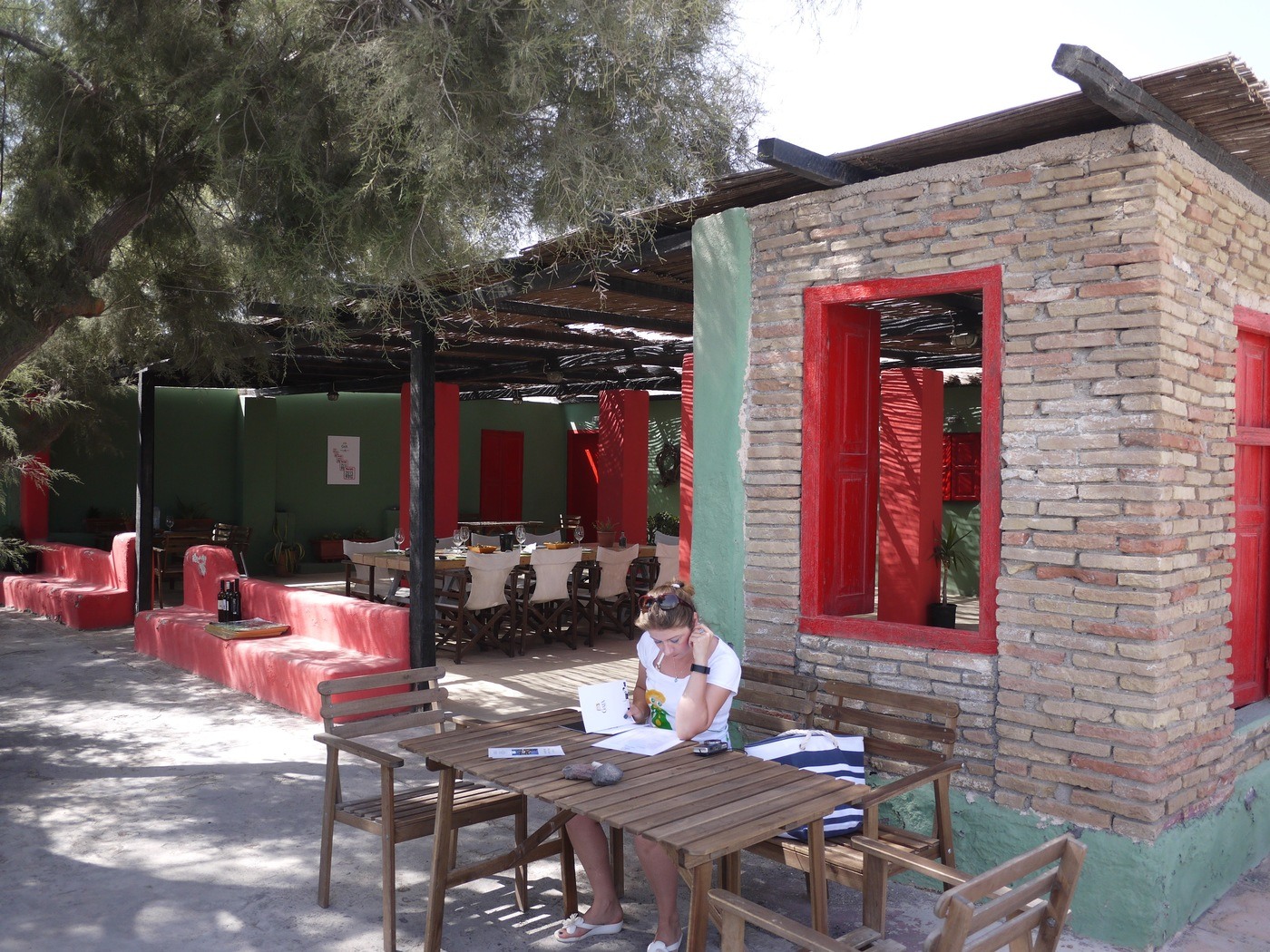 From this we learned two interesting facts were about Assyrtiko yields. They are very low: 25 hl/ha, compared to an average of 100hl/ha and that they remove the vine basket every 5 years, creating a new one.
Gaia Wines for beach and wine lovers
Gaia Wines was founded in 1994. The winery has two different locations with geographical denomination, one located in Nemea (Peloponnese peninsula on mainland) and one in Santorini. They also produce a lovely beer.
We did not want to go and have another 12 wines tasting after epic tastings at Santo and Domaine Sigalas, but instead, we asked one of the staff to bring us 4-5 of their best wines. She was a bit surprised by the request, but in the end she brought three assyrtiko wines, one Nemea agiorgitiko red and a Vinsanto. They were all very good and the Vinsanto was outstanding.
Three classic assyrtiko wines
The three assyrtiko wines had different methods of production and it was interesting to see the versatility of the grape.
One was the 2014 Wild Ferment (which we had, in fact, already tasted at a restaurant on our first night). As the name suggests, they let the natural yeast do the work, without introducing cultured ones. The wine is a blend of stainless steel tanks and three types of barrel fermentation (French, American oak and acacia). It had similar tasting notes with the other assytiko, but interestingly, I could detect some peach. There was a creaminess on top of a pleasant, refreshing acidity. It has plenty of potential to develop in the bottle. The price was €16/ bottle.
We also tried the Thalassitis 2014 oak fermented in new oak for 5-6 months and than aged on its lies. This gave exotic fruits flavours, almond, creamy and buttery texture to the mineral, citrus default notes. The price was€17/ bottle
The last one was Thalassitis 2014 with extra yeast, bone dry, austere, with hints of salt, gooseberry and lemon on the palate. Interestingly, because the vineyard slot from which the grapes are harvested is in the proximity of the Aegean Sea, there is a perceived saltiness in the taste of the wine. I also find the name is beautiful, as in Greek it means the man who comes from the sea. The other bit that created a nice story is the fact that in ancient Greece, they used to mix wine with sea water for therapeutic purposes.
You see, all the sun shine and therapy in one bottle … it is medicinal for body and soul!

Domaine Siglas
Domaine Sigalas is a boutique winemaker on the Greek island of Santorini. They have a picturesque wine tasting terrace with a range of wine tasting experiences.
It differs from the more mass-market wineries on the island, such as Santo and Gaia, both in scale, clientele and charm. The wines not so much.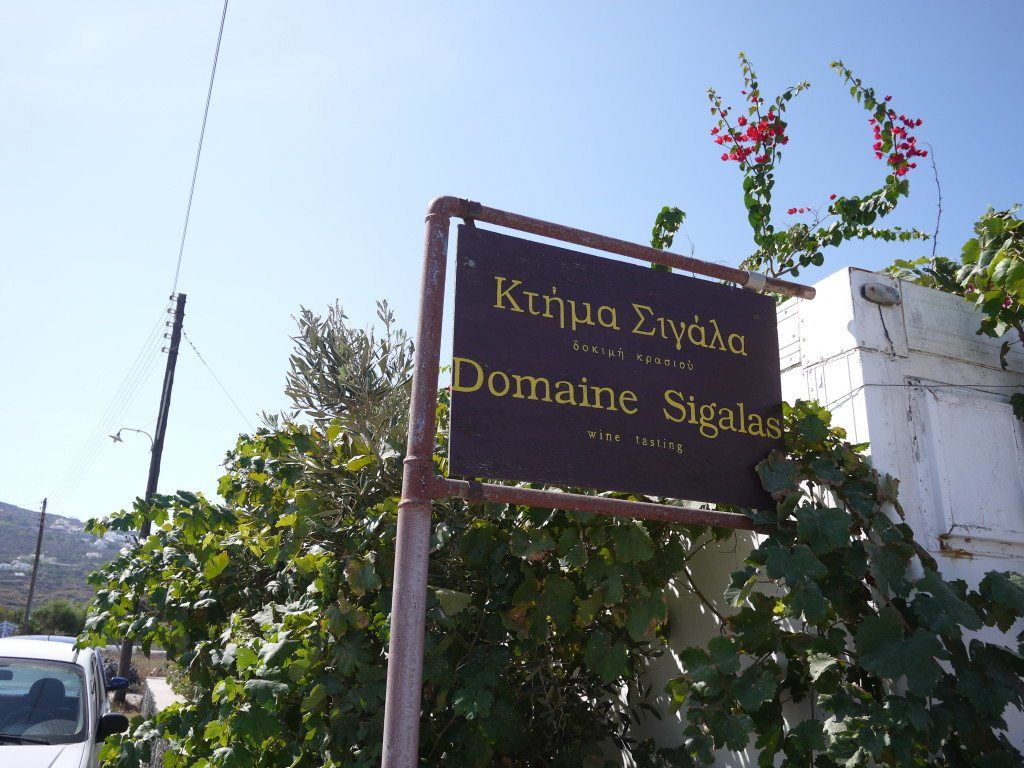 When were there, we were joined by a small table of Dutch people, one other, rather silent, couple and a cat. Perhaps the challenge of finding the place and driving through the winding, cliffside road puts people off. This is a shame – it's charming and well worth visiting.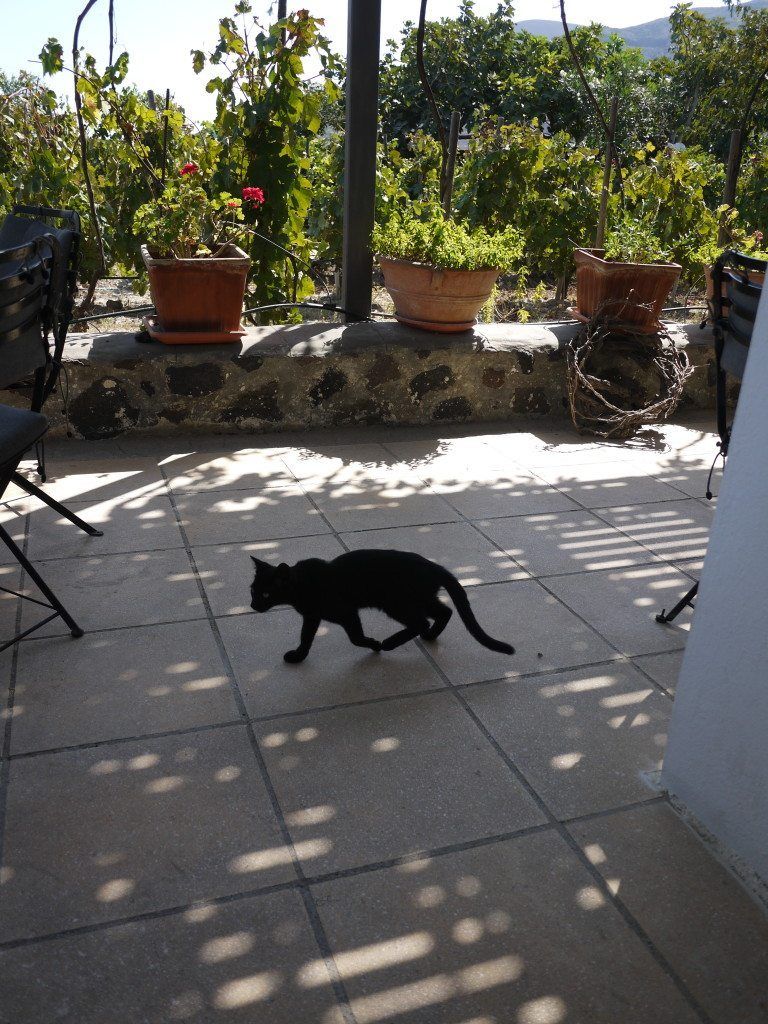 The new kid on the block
Domaine Sigalas is the new kid on the block. It was founded in 1991 and the owners invested continuously in the modernisation and expansion of their facilities. Wines are exported to Western European countries, Asia, North America, Australia. One can find its name in plenty of specialised literature as one of the top producers. If you visit their website, you can see they had a couple of international prizes too.
My personal experience with their wine tasting had a couple of hiccups, which led me thing that they are really good at managing the wine professionals' community.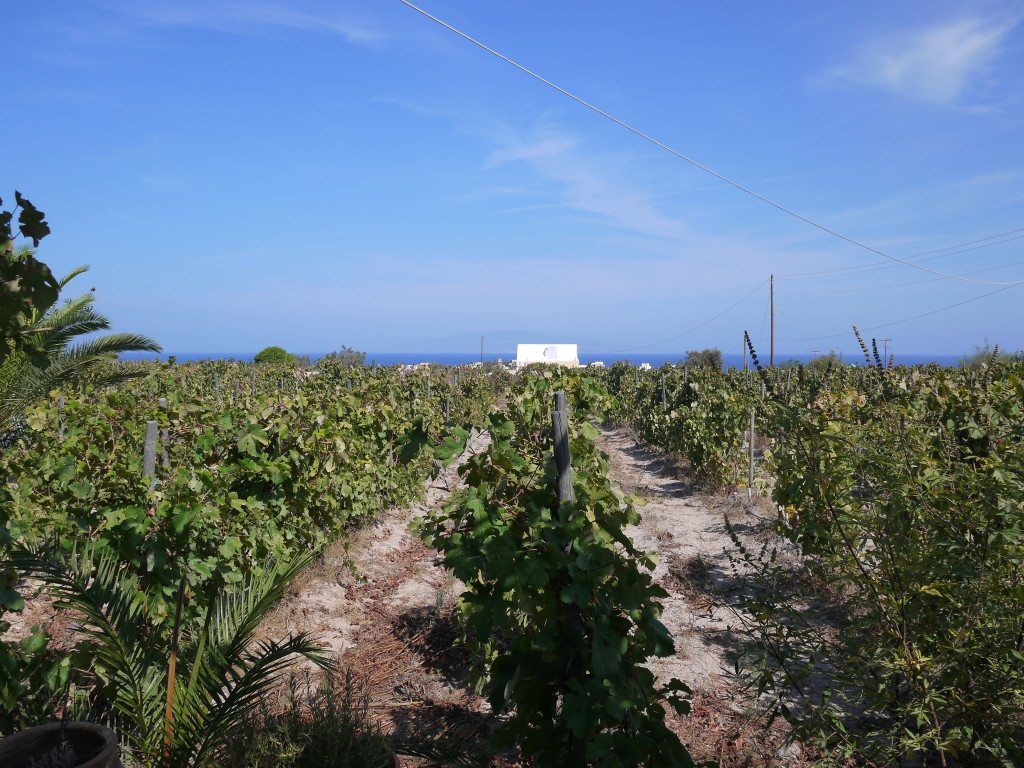 Overall, the experience was pleasant, we tasted 12 wines, some of which have won international wine awards. The staff were very friendly and they asked if we are writers for a wine magazine, as they saw us taking tasting notes.
Once we explained that we were students at WSET, they gave us a little blind tasting test: we were brought two more glasses of wine and were asked to identify them. We did!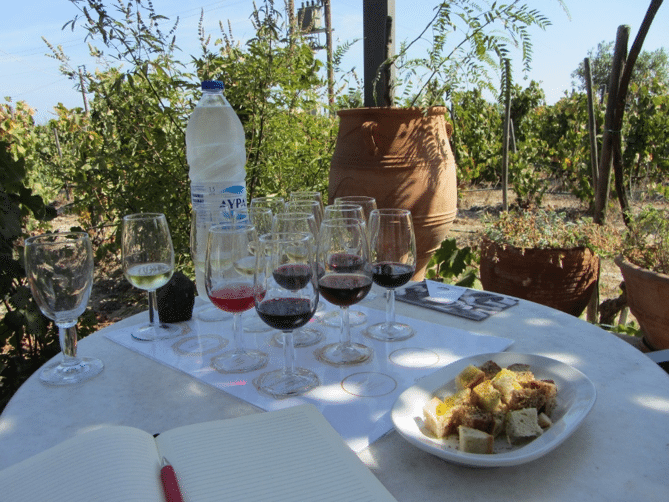 Testing, 1…2…3…
We tasted 10 wines, 6 white and 4 red, from dry to sweet. We found 2 outstanding and one very good. The rest were good and acceptable.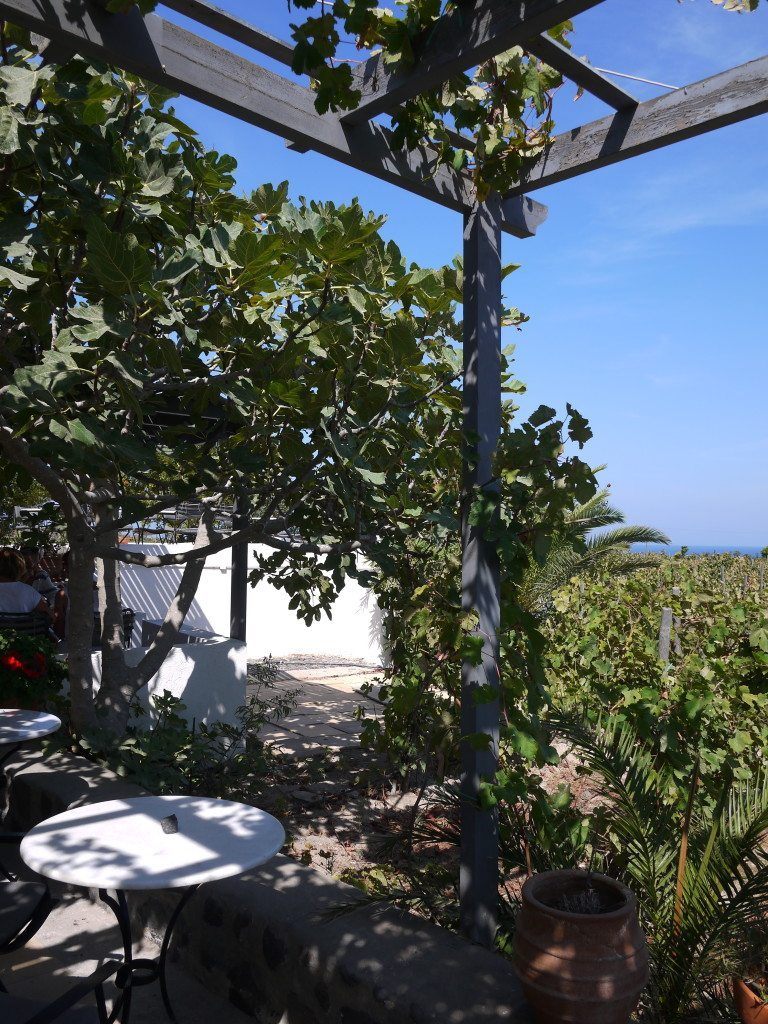 Our wine picks
Outstanding. Santorini Barrel 2014, 100% Assyrtiko from over 60 years old vines, fermented in oak (30% new French oak barrels) and matured "sur lies" for 6-8 months, ~€15/ bottle. Tasting notes: dry, with pronounced aromas of bitter almond, citrus fruits, minerality with high refreshing acidity and medium alcohol, full body, balanced and a pleasant, lingering finish.
Outstanding. Apilotis, 100% sun dried Mandilaria from over 60 years old vines, fermented and aged in old oak barrels for min 24 months. Tasting notes: sweet with pronounced aromas of raisins, sour cherry jam, red fruits marmalade, medium acidity, low alcohol and full body, balanced, luscious with a long velvety finish.
Very good: Nychteri 2012 (100% Assyrtiko), ~€30/ bottle.

Santos Wines
Santo Wines was founded in 1947 as a cooperative and it is the largest wine producer on the island. The current winery was established in 1992 and is open to public visits. In fact, Santo Wines was the only winery that offered a tour of the facilities. Our guide was knowledgeable and helped us understand better the entire production process.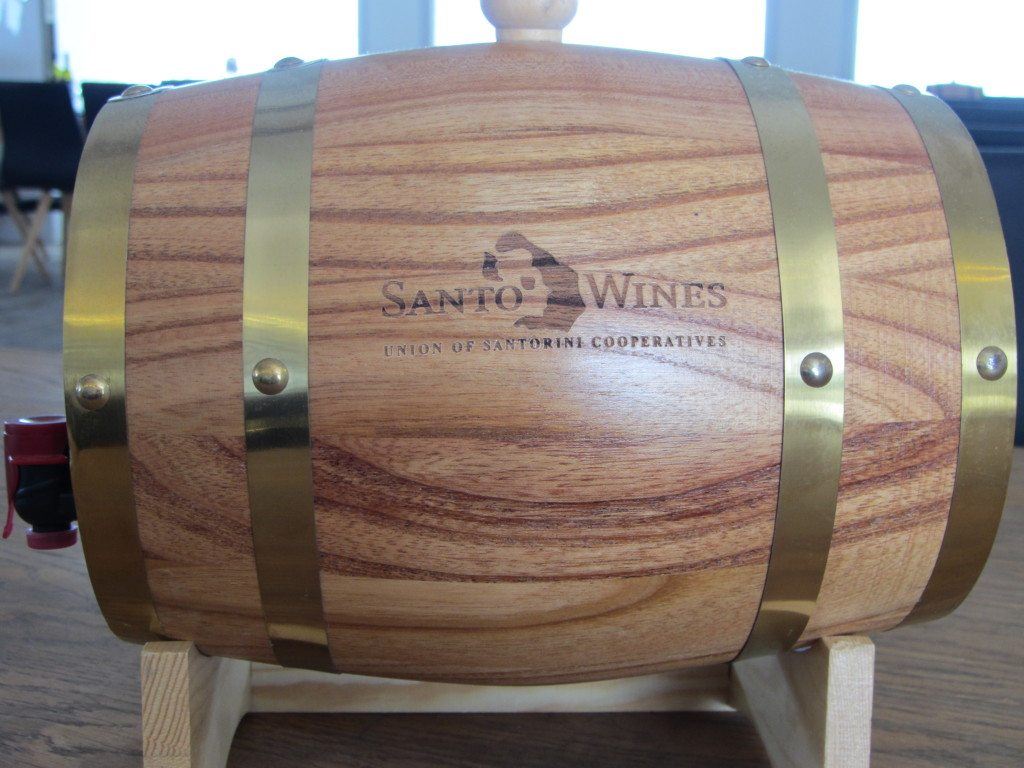 Taking the tour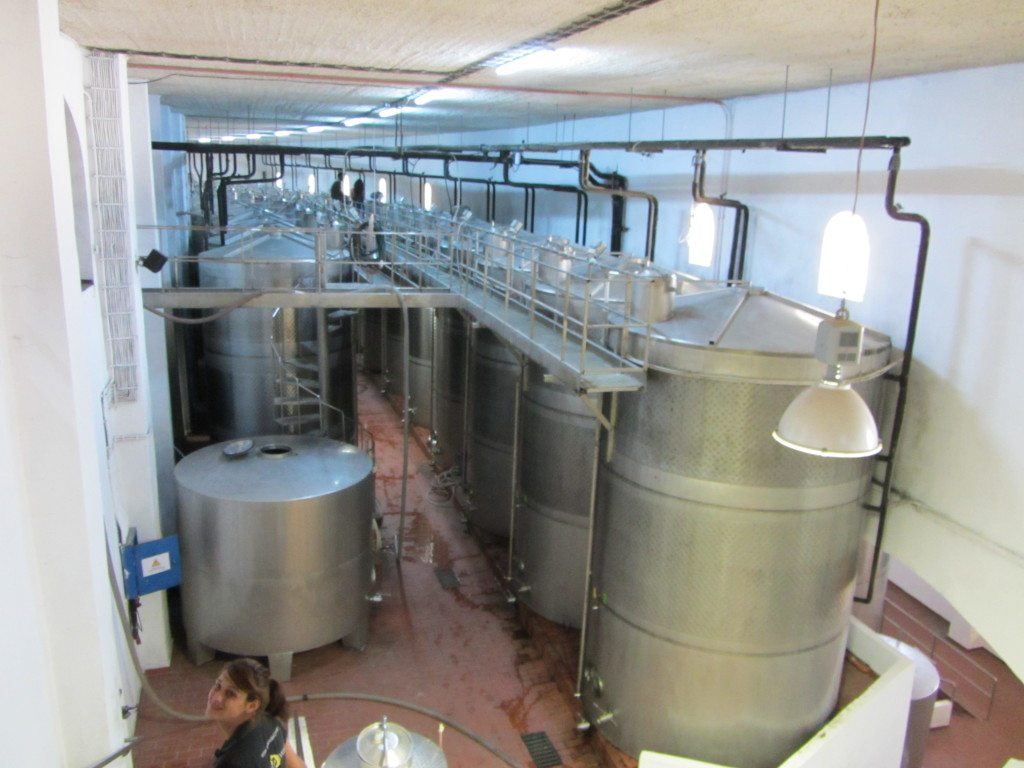 The tour is optional and one can opt simply for tasting in their restaurant, with a fabulous view over Santorini's Caldera. They offer three packages of wine tasting (6 wines, 12 wines and 18 wines), with some tapas.
At the end, you can buy wine in their shop, which also sells food products. The staff there are very friendly and helpful. The shop also offers a helpful brochure listing the best wines on sale, with detailed tasting notes, including details about ageing and oak usage.
Tasting the wine
After the tour, we took the 12 wines tasting and wrote tasting notes following the WSET Systematic Approach to Tasting on all of them. What I like about the WSET approach is that is objective and it does not leave room for too much wine waffle and blah-blah in the notes.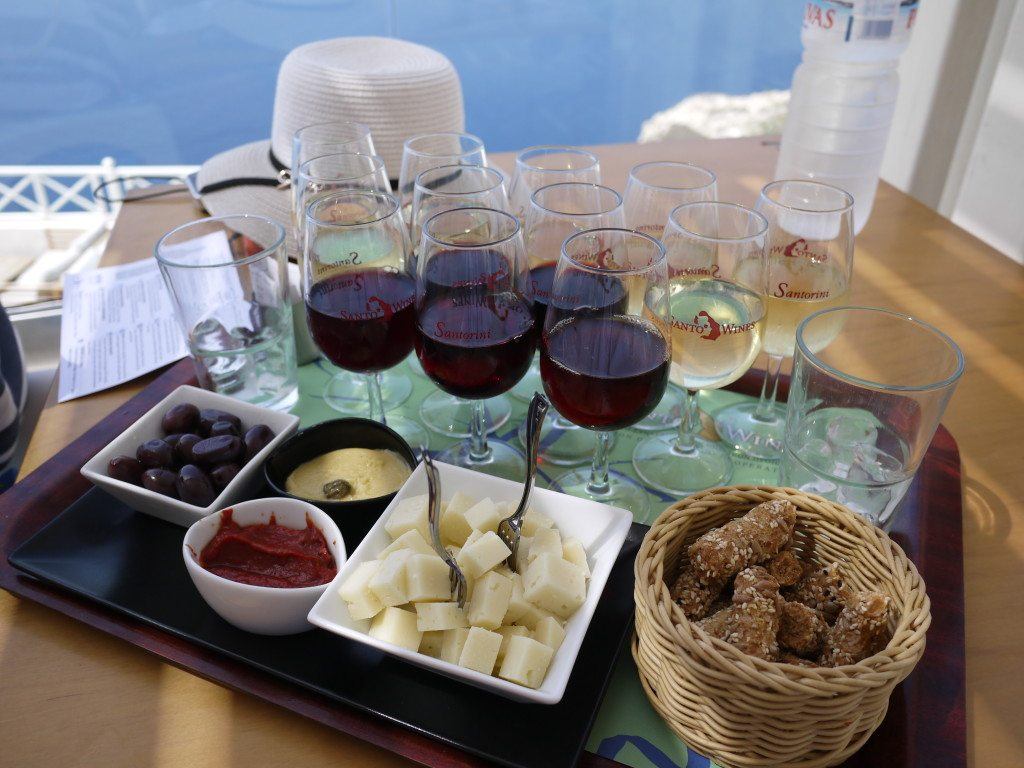 In addition, we also tasted their sparkling wine, made using the traditional Champagne method but entirely from Assyrtiko grapes. Santo Wines is the only winery in Santorini that produces a sparkling wine. It was good, but not a seismic experience.
We tasted 12 wines, 8 white and 4 red, made in different styles, from dry to sweet. 2 white wines were outstanding (a dry and a sweet) and only another white was very good. The rest were good and acceptable.
Our recommendations
The following wines were very good or outstanding. We bought a few bottles and we'll try them again over the next year under cloudy skies in England to see if they still measure up.
Santorini Assyrtiko Grande Reserve, 100% Assyrtiko, aged 12 months in oak and 12 months in bottle,€20/ bottle. Tasting notes: dry with pronounced aromas of vanilla, dried figs, toast, honey, minerality with medium refreshing acidity and high alcohol, full body, layers of flavours and a pleasant, lingering finish.
Santorini Vinsanto, 75% Assyrtiko, 25% Aïdani aged 3 years in oak barrels, €19/ bottle. Tasting notes: sweet, with pronounced aromas of dried figs, caramel, toffee, marmalade, high acidity, low alcohol and full body, with a balanced, velvety, smooth texture and a long finish.
Santorini Nykteri Reserve (75% Assyrtiko, 15% Athiri, 10% Aïdani). Very good but not outstanding.
Worth a visit
As an overall experience, outside the wines offered for tasting, on the plus side was the staff friendliness and helpfulness in the shop and the professionalism of the wine tour guide. On the minus side, they were a little bit clumsy with the logistics of the wine tour, as we had to wait more than 10 minutes after the scheduled time for somebody to come and pick us up. I also found the waiter that served us the wines part of tasting unfriendly and disinterested. But given the heat and the endless tides of tourists in coaches, it is perhaps understandable. It may not be a worker's paradise but it's definitely a paradise for wine lovers.