With more than 20 years' experience in the wine industry, Aurelia Vișinescu at Domeniile Săhăteni is a top quality Romanian winemaker. Her wines are particularly popular in the Netherlands and Belgium in Europe, China and Japan in Asia. (And we're trying to popularise them here in the UK.)
We will tell her story over two blog posts and share with you what we love about her wines and approach to quality.
On a rainy April day I drove to Săhăteni to meet Aurelia Vișinescu at Domeniile Săhăteni winery. I took the London weather with me on my trip. I missed the guiding billboard from the main road, as my GPS was showing a different destination. I realised I was going the wrong way and tried again with Google Maps, which took me on a romantic detour through the villages around the area. After 20 minutes driving, I gave up and phoned them for proper directions.
It turns out that sometimes, technology isn't enough. You need a human being, with all their experience, to get to the right place. Winemaking is also like that.
At Domeniile Săhăteni, I spent almost three hours talking to Aurelia about the UK and Romanian markets, her wine and vines, took a tour of the winery and got to taste two of her Anima range wines which I hadn't tried before.
Beginnings of Aurelia Vișinescu brand
Aurelia Vișinescu studied horticulture at university. She wanted to work with flowers, but ended up working for a Romanian wine export company after the fall of communism. This enabled her to go abroad and do practical internships in South Africa and Australia for three vintages. She knows how to make wine with a New World style, but her heart is with the traditional winemaking of the Old World. Aurelia decided to blend the two concepts and to come up with her own expression and style.
After the export company, Aurelia Vișinescu worked in Romania for Halewood, the largest UK independent drinks manufacturer and distributor. They are down the road from Domeniile Săhăteni.
Romanian pioneer
Not many people know that Aurelia was the first person in Romania to vinify Fetească Neagră as a dry wine. Previously, it was vinified as a sweet or demi-sweet wine. The industry followed and now dry Fetească Neagră is a favorite for the Romanian wine drinkers and one of the best-known Romanian grapes among the UK consumers.
In 2003, encouraged by her cousin, Aurelia Vișinescu and her business partner Steve Cacenco, established Domeniile Săhăteni as a family business. It was extremely hard at the beginning. The first wines, launched under the Divin brand, did not perform as intended. But, with a true entrepreneurial spirit, Aurelia went back to the drawing board and changed the approach. She launched the new brand carrying her signature in 2010. Although this was the nadir of the financial crisis in Romania, the relaunch was a success.
Quality first, quantity second
Aurelia offers seven ranges of wines, with different prices and qualities. The best range is Anima, the premium range, produced in limited editions only from the best grapes in the best years. If the vintage is not within the desired quality in the plots destined for Anima, she does not make the wine in that year. We love that commitment.

Viticulture at Aurelia Vișinescu
Aurelia Vișinescu has 82 hectares under vine at Domeniile Săhăteni. She replanted 64 ha with French clones over the last ten years, as the Romanian clones of international grape varieties were proving inferior. She has few old vines, some 40 years old, mostly with indigenous grapes. Replanting was done with EU funds, enabling her to produce high quality wines. High-quality wine starts with high-quality grapes. In her view, this does not mean the perfectly-sized, fat grape. She says that a grape which struggled will bring the salt and pepper to the wine; meaning more flavour and complexity.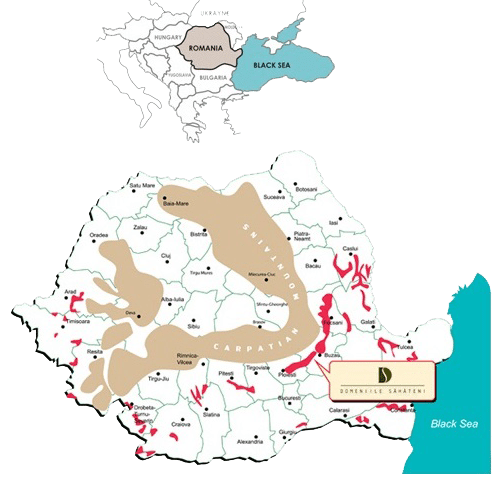 The vineyards are located in the Dealu Mare region, a hilly area south of the Carpathians. It is well known as a quality grape growing region. Soils vary from clay and sand with limestone subsoil to sand and stone on the hills, where she grows the Cabernet Sauvignon.
Although the climate is similar to Bordeaux, with vintage variation, it doesn't benefit from the same maritime influence, as Black Sea is a couple of hundred kilometers away.
Ecological, sustainable viticulture
Aurelia chose an organic/ecological approach to viticulture and uses very little fertilizer. She doesn't use insecticides or too much spraying. Bordeaux mixture (permitted in organic viticulture against grey rot) is kept to a minimum. In her vine growing philosophy, vines need to develop their own immunity to diseases: 'it's like humans and antibiotics: the more treatments you take, the less resistant you are,' she says. ;I had years when I waited too much and I lost an entire plot harvest to rot, but my vines are healthier than [the other] vineyards around.'
Low yields, high quality
Without irrigation, yields are quite low: 5-6 tons per hectare for the premium range Anima and eight tons per hectare for the others compared to 12-15tons/ ha for commercial wines. But she admits that she doesn't do mass market, commercial wines. She crafts each vintage every year with a lot of love and attention to detail to express best the grapes nature gives her.
Grapes are picked at the optimal ripeness. This is not science, it is art. Aurelia admits that she has the biggest challenge with the Pinot Noir, which is well known for its temperament. Because of this, she plans to invest in machine harvesting, which will enable her to pick the grapes during night, when it is cooler.
Winemaking at Aurelia Vișinescu
The 82 hectares of vineyard enabled Aurelia to invest in the latest technology in her winery. She has pneumatic presses, temperature-controlled stainless steel tanks for fermentation and a modern bottling facility.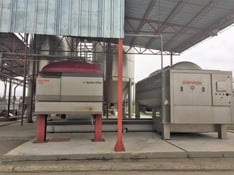 She knows scale allows investments in a certain technology. A winery with a couple of hectares doesn't have the same resources.
But her heart is with wine barrels. Aurelia believes that nothing helps the wine, especially red wine, as ageing in barrels. For premium wines, she uses Romanian, Russian or French oak. Her marketing manager said: 'you should see Aurelia picking her barrels: is like a woman shopping for jewellery'.
Her vision is that wine needs time to evolve. Wine is a living product which requires patience, attention to details and care. Oak barrels are the right growing environment for a great wine. Knowing when it reaches the right stage is a skill which comes with years of experimentation, observation, attention to detail and care.
She uses natural clarification rather than artificial fining to clarify and stabilise the wine and Kieselguhr, a sedimentary rock made mainly of silica, for final filtration. This approach, which avoids harsh interventions, is another hallmark of quality wine.
For Anima range she grows mainly international grape varieties: Chardonnay, Pinot Noir, Merlot, Cabernet Sauvignon, Shiraz. She also makes a special wine from Fetească Neagră, by blending three consecutive high quality vintages, called '3 Fete Negre' (Three Black Girls). This is her soul grape, given the long history they have together.
---
At the vineyard, I was keen to taste a couple of wines that were new to us: the Pinot Noir and the 3 Fete Negre, a blend of 2013, 2014 and 2015 vintages.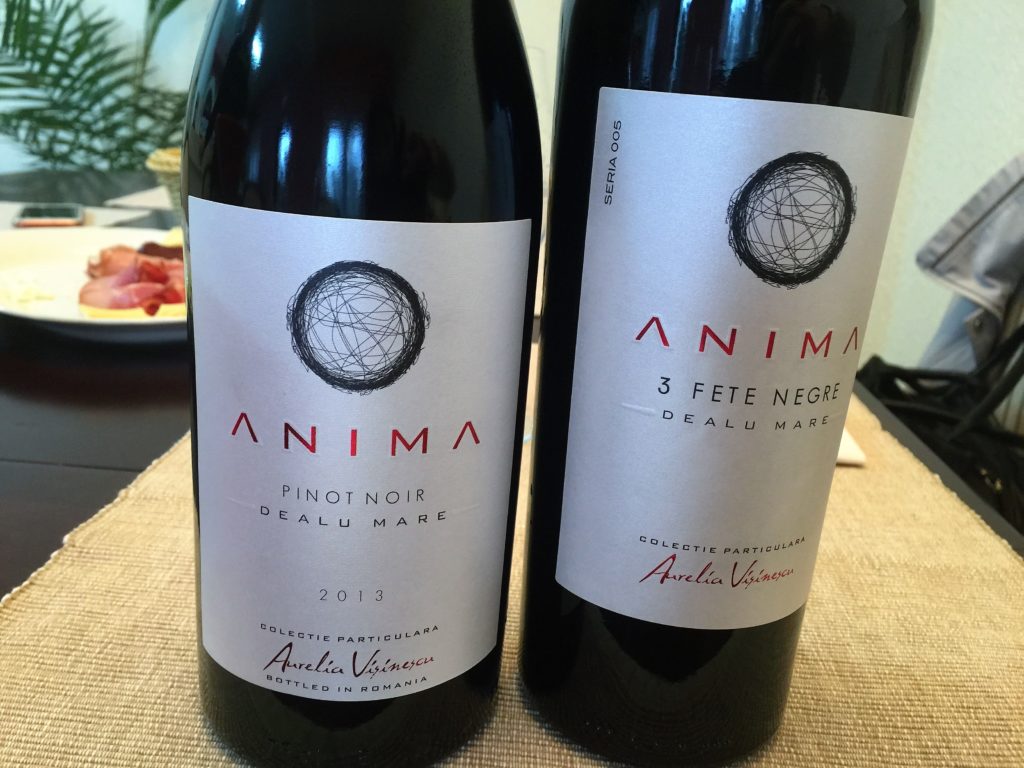 Anima Pinot Noir 2013, 14% abv, tasting notes: pale garnet colour, with medium (+) intensity distinct aromas of red cherry, strawberry, tobacco, leather and the vegetal characteristic of Pinot Noir nose. On the palate: dry, with high acidity, medium (-) tannin, light body and a medium (+) finish. You can drink it now.
This wine spent in three years old oak barrels for 18 months.
Our rating: Very good
Anima 3 Fete Negre, 14.5% abv, tasting notes: medium ruby colour, with medium (+) intensity distinct aromas of blueberries, cranberries, savoury, Parmesan, leather and tobacco. On the palate: dry, medium (+) acidity, medium tannin, medium (+) body. It tastes like ripe sour cherry with dark chocolate and has a long finish. I think this is a perfect match for lamb dishes.
This wine carries the 005 series and is the sixth edition. When the vintages are not outstanding quality, Aurelia doesn't make this wine. Produced in small quantities, 3 Fete Negre is difficult to find. Romanian restaurants and specialised wine shops are the main distribution channel. The wine spent 18 months in new Romanian oak barrels.
Our rating: Outstanding
Visiting Aurelia Vișinescu at Domeniile Sahateni
At the moment it is quite difficult to visit as an individual person. If you are in the area, you can buy from the winery shop without reservation. Please contact them in advance for group visits. They have a beautiful newly-decorated tasting room which they intend to use for tasting events.