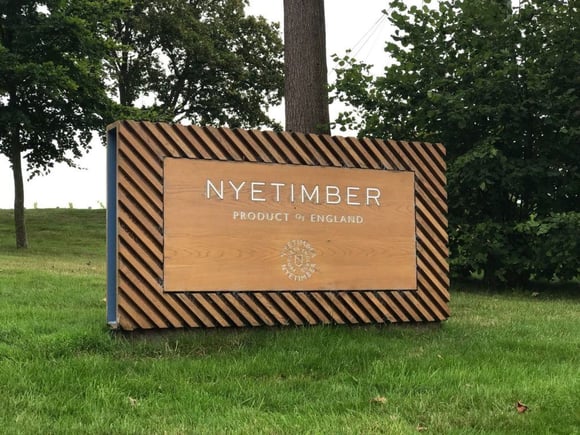 It's been a long time since I wrote my last blog post. But there's no better way to get over the writer's block than writing about our favourite English sparkling wine, Nyetimber. It's our default choice for traditional-method sparkling wine below £40 per bottle and we prefer it to similarly-priced (but poorer value) Champagnes.
We first discovered Nyetimber sparkling wine in 2017, during an event organised by American Express. At the Nyetimber office in Mayfair, we tasted the range and listened to the story told by their wine ambassador.
Introducing Nyetimber
Just picture this young version of Hugh Grant who tells you how the bubbles got into your glass. We loved the wine so much, that we stocked the Classic Cuvée and the rosé back when we were selling wine on Vincarta. We also served it at the wedding of Mr. and Mrs. Vincarta back in 2018. Yes, that's how much we love it!

Nyetimber awards
Nyetimber sparkling wine was gifted from the beginning and received what everybody needs in life: a proper launch. The first vintage (1992) got the Best English wine award. The second vintage of Nyetimber Classic Cuvée (1993) bit all the competitors in the International Wine and Spirit Competition. Moreover, it got served at the Queen's 50th wedding anniversary in 1997. Ten years after the first planting, Nyetimber was named the best bubbly in the world. The long list of awards continues.
Female winemakers rule
A very talented woman, Cherie Spriggs makes Nyetimber sparkling wine. She is the head winemaker and together with her husband, Brad Greatix, manages the wine production at Nyetimber. It was a great honour to meet her in person and take a picture together, in the year when she obtained the 2018 Sparkling Winemaker of the year. Respect.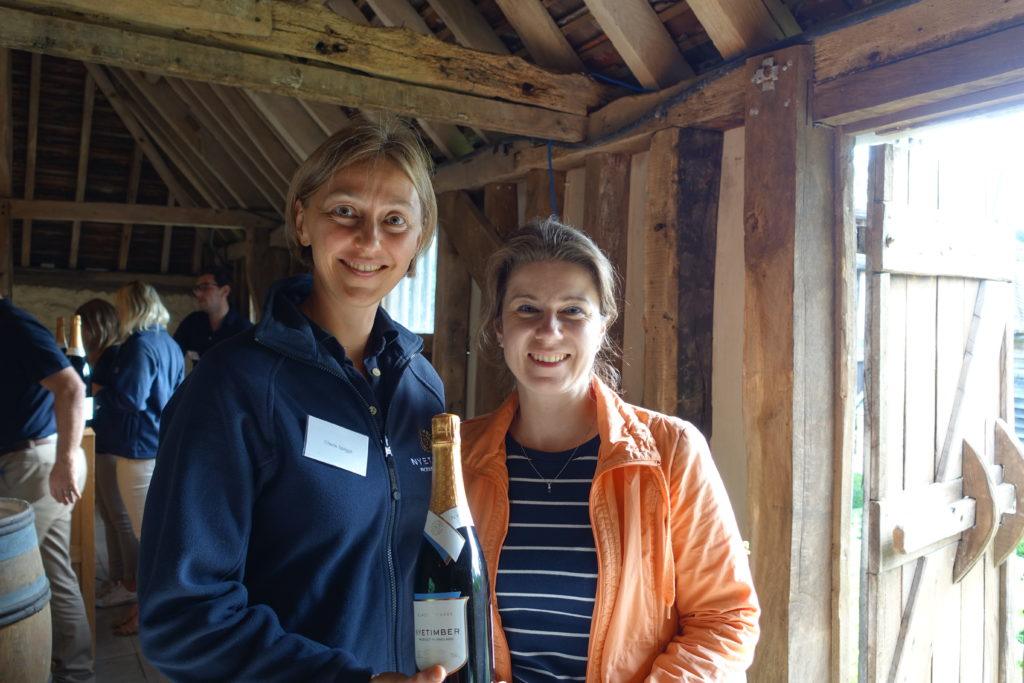 Nyetimber history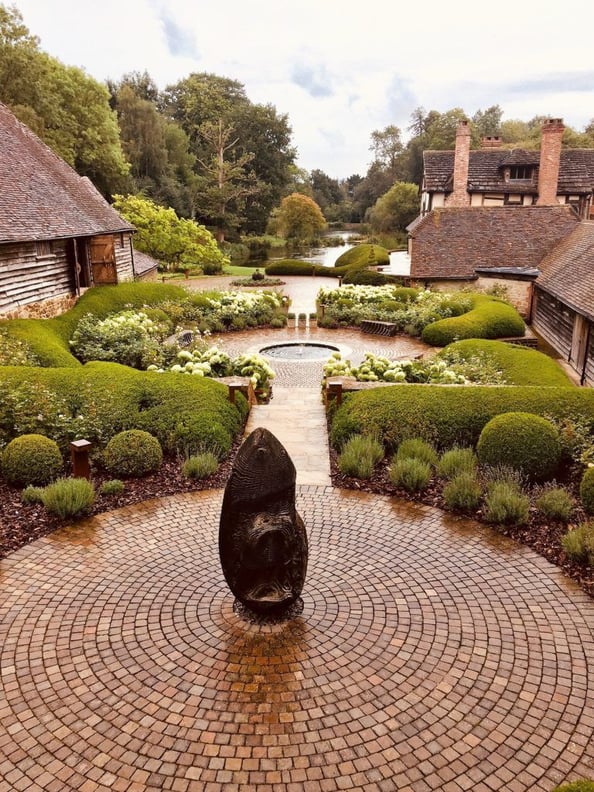 A couple from Chicago bought the gorgeous Nyetimber Manor, and decided to pursue the American dream in the UK. They chose to plant the traditional Champagne grapes in 1998: Chardonnay, Pinot Noir and Meunier.
In 2006, the current owner and CEO, Eric Heerema, bought the manor and the brand. He restored the Grade II listed medieval buildings and currently lives there with his family. That's why you visits are rare and need to be booked well in advance.
When we visited, we toured the vineyards and had a tasting in the medieval barn, which has romantic connotations, because Eric Heerema and his wife, Hannah, got married there in 2013.
The manor is full of history: it was mentioned in the Domesday Book (1086). It was briefly owned by Thomas Cromwell and then by Henry VIII's fourth wife, Anne of Cleves, following the annulment of their marriage in 1540. No doubt George Washington schlepped there at some point too. What matters is the way they make wine.
Quality English winemaking at Nyetimber
Thirty years ago nobody thought that England could earn a place at wine's top table. But, now we know that the south of England sits on a bed of chalk and limestone, which is part of the Paris Basin, connecting Champagne and Southern England.
Moreover, South England is warmer than Champagne, with cooler summers, which allow for the slow ripening of the grapes. This is very important in wine-making, as it allows the build-up of complexity and finesse.
Traditional method
Nyetimber makes sparkling wine using the traditional method. This means that the bubbles come from the bottle's second fermentation, like in Champagne. Everything comes from their own 260 ha spread across Sussex, Hampshire, and Kent. The Manor vineyard is ~90 ha. With an annual production of 5-6,000 bottles per year, Nyetimber sparkling wine represents one-tenth of English sparkling wine production.
French vine clones
The French vine clones are forced to produce a low yield (30% lower than normal English sparkling wine). Hand harvesting is a rule, with picking in 15kg crates, to avoid bruising the fruit.
Chardonnay represents most of the planting, with Pinot Noir and Meunier contributing to the rest.
Expert Romanian grape pickers
Nyetimber relies on Romanian pickers: regular families that have been coming to pick grapes for the last 15 years. They come every harvest for 4-5 weeks and know the vineyard inside and out. I like to think there is a bit of Romanian soul in every Nyetimber bottle. We asked if Brexit will have an impact: most probably yes, which is a shame, as both nations benefit from a mutual relationship, as does Vincarta.
(We'll try to keep the politics and economics out of this review but if you're interested, please read our articles on protectionism and the wine trade and the potential impact of Brexit on the UK wine industry.)
The wines of Nyetimber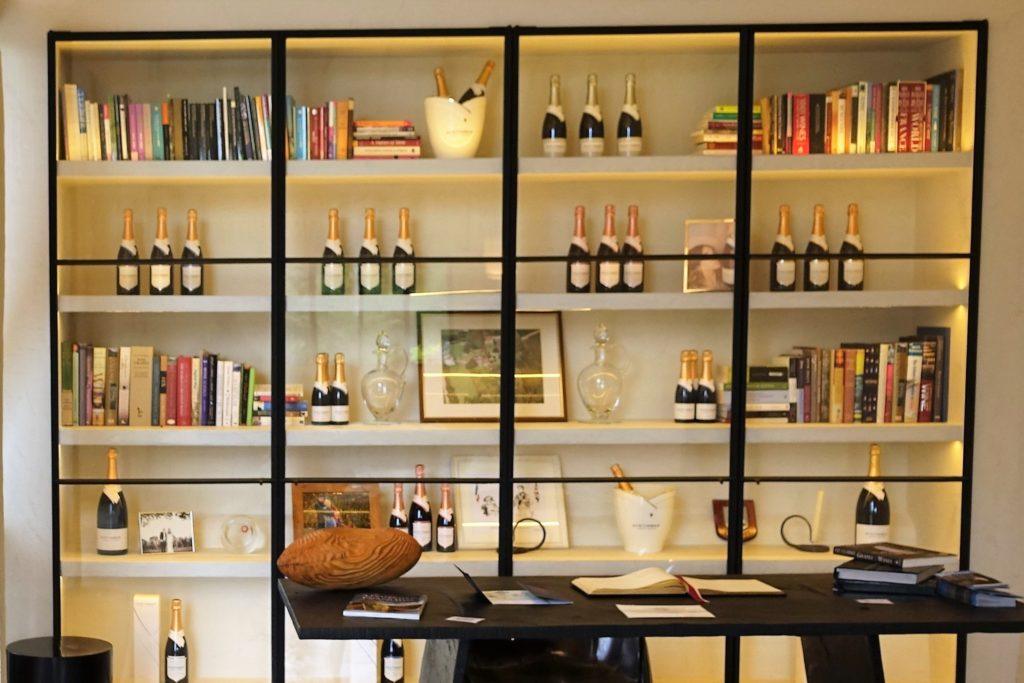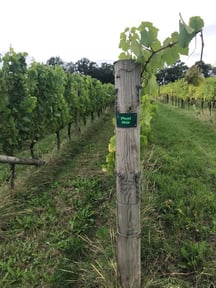 A typical Nyetimber blend is 60% Chardonnay, 30% Pinot Noir, 10% Meunier. Although by law, English sparkling winemakers need to keep the bubbly on its lees for at least nine months, at Nyetimber they go above and beyond. Depending on the vintage, they age their wines for 3-5 years, in line with serious Champagne houses. Needless to say, every wine I tasted from Nyetimber was outstanding, which pleases my quality-addicted soul.
Nyetimber produces five wines, the most notable being the Cuvée, the Rosé and the Blanc de Blanc. The Rosé is made by adding a splash of Pinot Noir to the blend; Pinot Noir produced from three rows of old vines on the estate (strawberries and cream, right there for you, in a glass).
Nyetimber memories
We had a fantastic visit to Nyetimber. We learned more about their wines, saw the vineyards and met the producers in person. Familiarity makes wine taste better. But in this case, we already loved the wine and visiting the source only added to our respect and enjoyment of the wine