'Feigning joy and surprise at the gifts we despise over mulled wine with you'
The Darkness's hit, Christmas Time, might not be top pick for your seasonal playlist, but they did get one thing right: it's certainly hard to imagine Christmas without the warmth of a steaming mug of glühwein or mulled wine.
Believe it or not, we've been drinking these unique, warming wines for centuries.
In fact, spiced wine dates back as far as ancient Egypt, around 3150BC, where wine was peppered with spices for its medicinal value.
Throughout history, spiced wine has been a firm favourite for many, though its recipes are continuously altering.
In today's blog, we'll be comparing mulled wine, as we Brits know and love, with glühwein, its popular German cousin. So, what's the difference between the two?

Glühwein vs mulled wine
Truth be told, there's no mind-blowing difference between the two wines. (Sorry!) When you compare the two beverages, their differences are ultimately down to the preferences of the 'brewer' and the spices used.
That said, why not put both to the test and see which you prefer? We've sourced two tantalising recipes for you to try.
Mull this over
Modern day mulled wine is typically sweeter than its 'spiced wine' predecessors, as it tends to use more fruit juice to help tune out the overwhelming acidity and spice.
With that being said, here's an easy-to-follow recipe for a modern-day mulled wine:
1 litre dry red wine
2 (5cm) cinnamon sticks
1 dessertspoon whole cloves
1 dessertspoon whole allspice
1 large piece orange rind (avoid the pith)
1 large piece lemon rind (avoid the pith)
Simply heat all ingredients in a pan, gently, and then add two to four tablespoons of sugar for sweetness (and to your liking). Leave it on a low heat for 20 minutes and voila! Your mulled wine is ready to be served.
If you'd like to follow a more dated, traditional recipe, however, try substituting sugar for honey and throw in some raisins and almonds.
German glühwein
Germany's equivalent, glühwein, is a traditional seasonal drink served across markets during the Christmas period. The word itself translates to 'glow-wine', unsurprising named after the feeling one gets after drinking a mug or two.
As you can see from the following traditional German/Austrian recipe, the drink is largely similar to that of its British cousin, with only a few minor ingredient differences:
500 millilitres Red Wine or 17 floz
100 millilitres Water or 3.4 floz
1 (5,5 cm long) Cinnamon stick
1 Star Anis
½ Vanilla Bean
pinch Nutmeg
10 Cloves
Sugar to your liking
When it boils down to making the wine (get it?), the method is almost identical. As a result, it's safe to say that glühwein and mulled wine are simply variations of the historical spiced wine our ancestors indulged in – only, thankfully, much sweeter.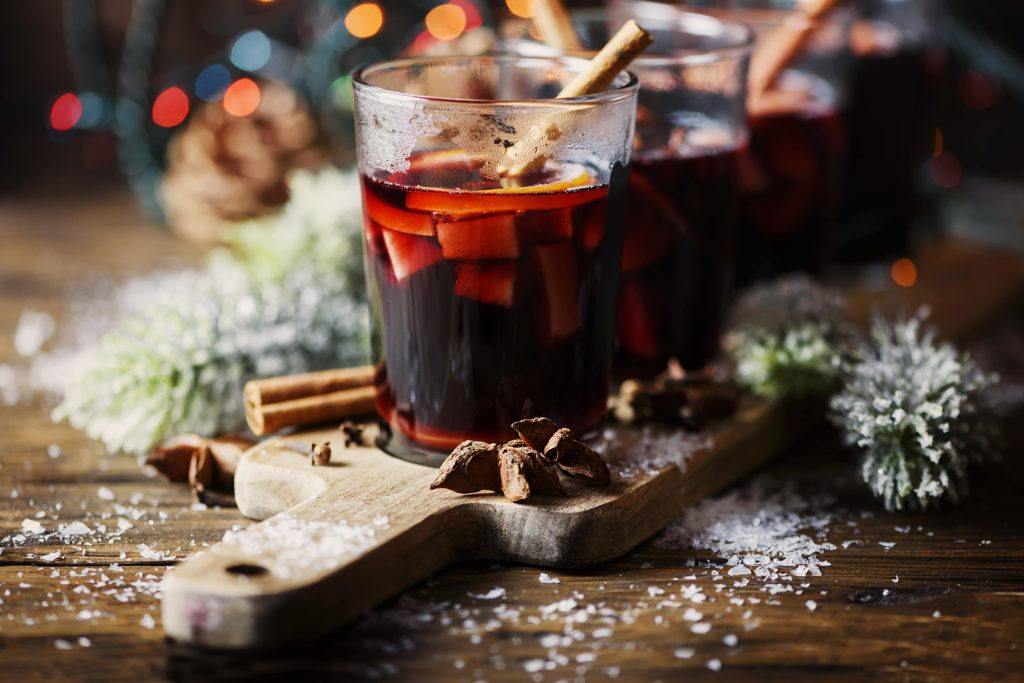 Okay, but what wine should I be using?
Although many Christmas market vendors will make do with cheap bottled wine, we believe that your mulled wine, or glühwein, should be special. It IS Christmas, after all.
A dry, bold red wine is preferable for making a mulled wine – especially one that lends itself to more fruity flavours.
We think a hearty Cabernet Sauvignon is the perfect base for your Christmas drink, with its complex, complimentary aromas of blackcurrants, black cherries and cinnamon. However, if this isn't to your liking, a quality Merlot will also comfortably do the job.
So, what are you waiting for? Christmas is around the corner. Treat yourself to a glass or two before the season's over.