Quintarelli should be on any wine buff's bucket list. It is one of the best wineries in the world and the best in the Valpolicella wine region. Giuseppe Quintarelli is the godfather, if not the parent, of Amarone.
Quintarelli history and credo
Quintarelli's history evolved around the winery, which is located in Cerè near the village of Negrar. Quintarelli's family has lived here since 1924. Quintarelli's father, Silvio, bought some land after World War I and established his estate. Giuseppe Quintarelli started working on the estate in 1950, extended it and brought improvements in vine growing and winemaking. He experimented widely even while working within the region's traditions.
Unfortunately, Giuseppe Quintarelli passed away in January 2012, aged 84, but his family continues to follow his vision and style. One of his four daughters, Franca and her husband Giampaolo Grigoli manage the estate. Giampaolo Grigoli guided our steps through the winery and hosted our tasting.
They have 10 hectares of vineyards with three hectares on the hill called Monte Ca' Paletta next to the winery. They use the pergola Veronese system for the local varieties (Corvina and Corvinone), and Guyot for the international varieties (Cabernet Sauvignon, Cabernet Franc and Merlot). Sustainable vine growing is at the core what they do.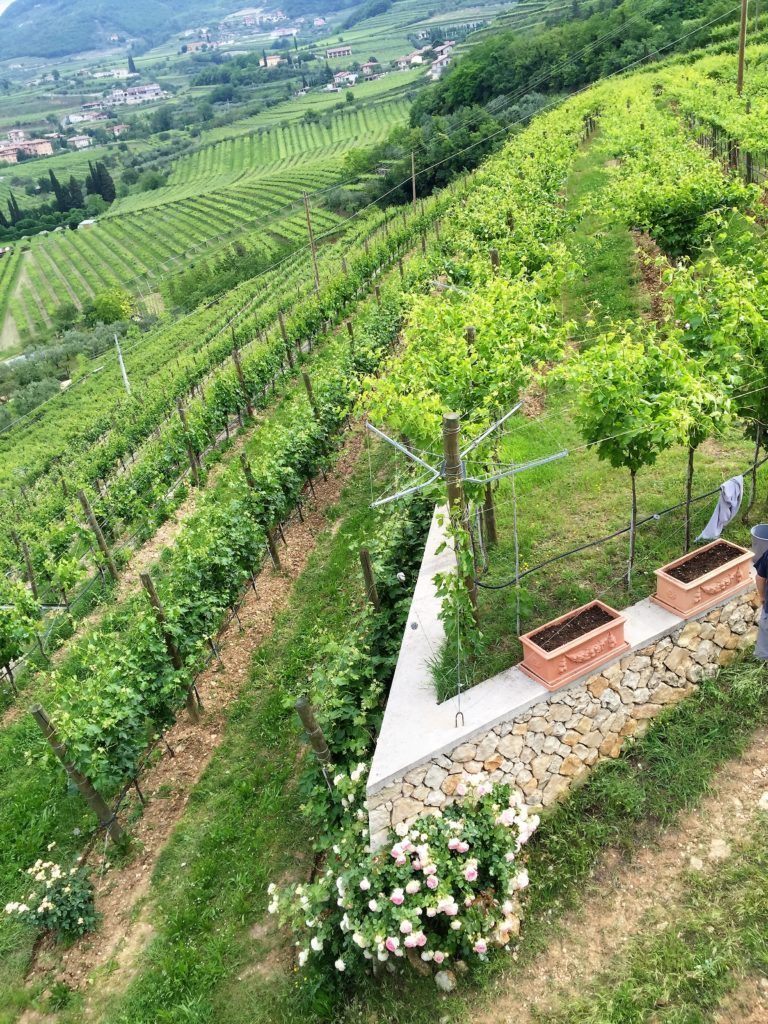 At Quintarelli there is an obsession about quality: from the product itself, to the quality of the corks, glass and bottle caps. The labels stand out with their charming and idiosyncratic handwritten style. They treat wine with respect and patience, allowing it to develop to its maximum potential before it is bottled.
Their wine doesn't come cheap. It is the most expensive in Valpolicella, but it is heavenly. So treat yourself in this lifetime with a Quintarelli, as it is by far affordable in comparison with the famous Burgundy or Bordeaux names and every bit as good.

Winemaking at Quintarelli
Fermentation occurs in stainless steel vats, which are used for their white wines and to transfer from one barrel to another.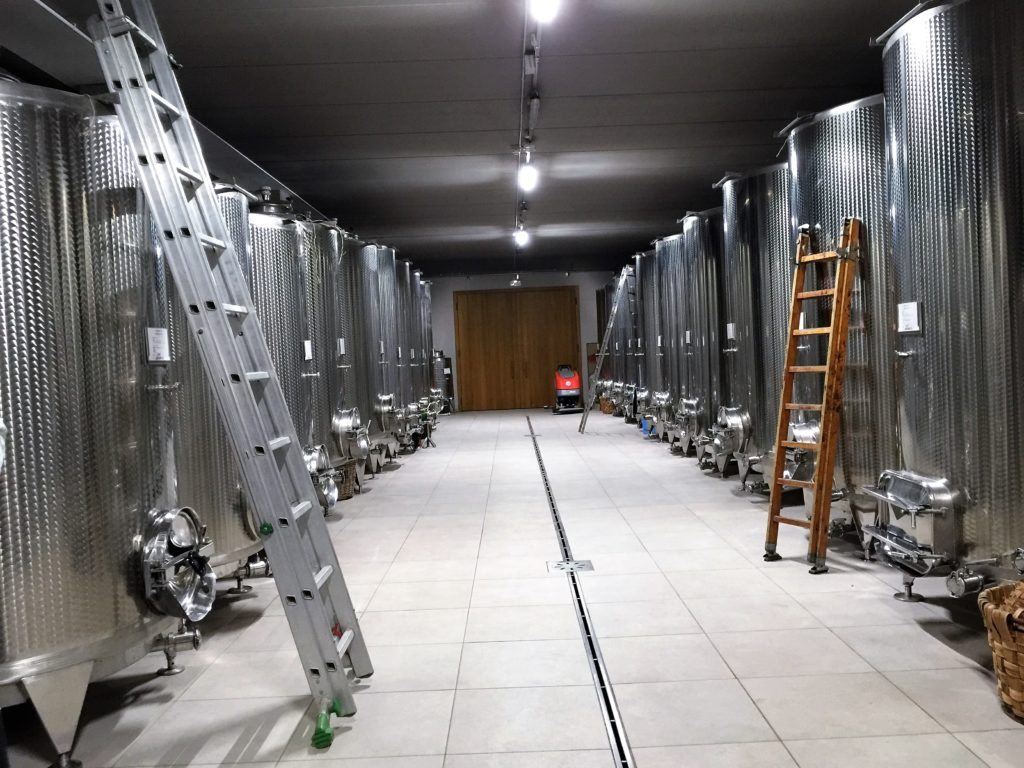 They age their reds in large oak casks the longest in the region: six years for the Valpolicella Superiore and eight years for the Amarone. The majority of other producers age Amarone 3-4 years and the Valpolicella Superiore no more than two years. We found out that 2005 was a difficult year, with a lot of hail and the grapes did not reach the quality for Amarone. As a result, there is no 2005 Amarone. It takes a certain amount of moral courage to pass up short-term profit but the benefit is trust in the brand's quality.
Inside Quintarelli
We met Giampaolo, Quintarelli's son-in-law outside the winery. He showed us the vines, explained how they avoid using herbicides and explained how they make their wine. Then we entered the hallowed ground of the winery itself. We spent time in front of each beautifully carved botti, each of them representing a member of the family.
Then we walked into a new section of the winery, following a corridor with best Quintarelli wines displayed on a wall of fame.
At the end, we entered the tasting room, where Giampaolo poured each wine with very slow movements, almost like a Japanese tea ritual and explained how they were made.
The entire experience was magic and delightful.
Tasting at Quintarelli
At Quintarelli wine is food. No drop should be wasted. That's why they don't provide spittoons. And we agree with them in this case. Their wine is so good, it would be a shame to waste it. I had to measure my sips (two sips per wine) to keep my head clear while I was taking notes, relying on Matthew to finish off my tasting sample. [Always happy to help – Matthew.]
In Italy, wineries give you all their wines to taste, starting from the very young and mediocre to their best. The same approach was employed at Quintarelli. But it was an embarrassment of riches with each wine better than the last and all but one of them very good or outstanding.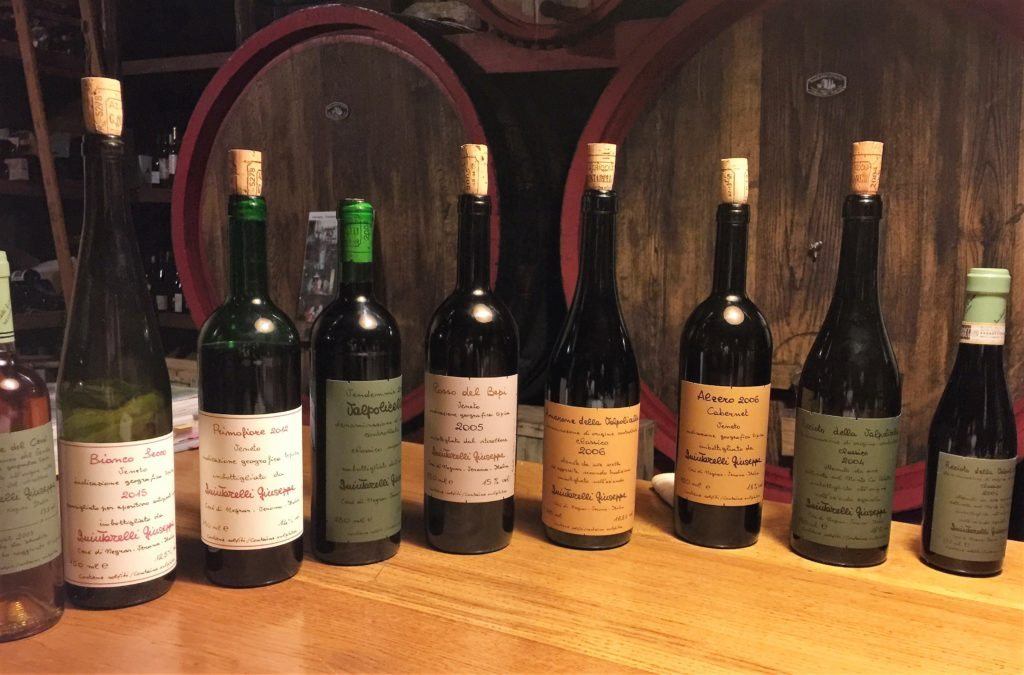 We tasted in total seven wines, six red and one white. Their white, Bianco Seco 2015 was good, but the reds, were almost all outstanding, except for the Primofiore 2012, which was very good. The beauty of Quintarelli's wines is that they are ready to drink now. Deferred gratification is for people with large cellars. Life is short. Drink now!
Primofiore 2012, 14% abv
Blend of 50% Corvina and Corvinone and 50% of Cabernet Franc and Cabernet Sauvignon. Grapes were dried for one month. The wine was aged in botti for 1-2 years.
Tasting note: medium aromas of cassis, sour cherry, and liquorice. On the palate dry, with medium (-) tannin, medium body and high acidity, long finish. The wine is youthful and very fruity, without too much ageing complexity. Better drink now.
Our rating: very good
You can buy it in the UK starting from £24.4/ bottle from Italvinus.

Valpolicella Classico Superiore 2008, 15% abv
Blend of Corvina, Corvinone and Rondinella up to 90%. Half of the grapes were pressed and fermented immediately, the other half was dried for two months. The resulting mix was aged for six years in botti.
Tasting note: on the nose and on the palate, pronounced aromas of ripe sour cherry, kirsch, smoke, violet, meat, and tobacco. Dry, high alcohol, medium (+) acidity, medium body and an extremely long finish. The wine is elegant, savoury, and a pleasure to drink even without food. It is still developing and can age a couple of years more, but you can as well enjoy it now rather than waiting for the perfect moment.
Our rating: outstanding
You can buy it in the UK from Uvinum at ~£61/ bottle.
Rosso del Bepi 2005, 15% abv
As they did not produce Amarone in 2005, the grapes went into the production of this wine, following a similar method: four months appassimento and eight years in botti. The rest is bottle ageing.
Tasting note: on the nose pronounced aromas of parmesan, dried fruits, cassis, meaty and cellar floor, complemented on the palate by ripe sour cherry and tobacco. Dry, medium body, medium (-) tannin, refreshing acidity and a very long pleasant finish. The wine is developing, but can easily be drunk now without remorse.
Our rating: outstanding
You can buy it in the UK from Uvinum at £109/ bottle.
Amarone della Valpolicella 2006, 16.5% abv
This is a blend of Corvina, Corvinone and Rondinella up to 90%, the rest being Cabernet Sauvignon, Sangiovese and Nebbiolo. Grapes were subject to appassimento for four months, and the resulting wine was aged for eight years in botti, with the remaining period as bottle ageing.
Tasting notes: pronounced aromas of tobacco, cherry, dried figs, smoke and savoury. On the palate, because of its high alcohol, it tastes like a velvet kirsch. It is dry, with medium (-) tannin, full body and a long lingering finish. It has layers of flavour, it is delicate and lush. Developing, but if you are having a special anniversary, you can enjoy it now. This wine is divine. No wonder the Vatican prefers it.
Our rating: outstanding
You can buy it in the UK from Uvinum at £273/bottle.
Alzero 2006, 15% abv
This is a blend of 80% Cabernet Sauvignon and Cabernet Franc and 20% Merlot. Quintarelli's wife designed it and was her favourite. Grapes go through appassimento drying for four months, and the wine spends eight years in botti.
Tasting notes: pronounced aromas of cassis, ripe fruits, smoke, savoury, forest floor. On the palate: dry, medium tannin, high alcohol, medium (+) body, log finish. The wine is very concentrated, voluptuous and rich. It was a nice contrast with a Bordeaux blend. Because they dry out the grapes and use long ageing in large casks, the wine is more approachable compared with its French counterpart on a similar blend. It is still developing, but you can drink it now.
Our rating: outstanding
I found it only in bond at £181/ bottle from Cru.
Recioto della Valpolicella 2004,
At Quintarelli, they use the same grape mix and time for drying the grapes as for Amarone. The only difference is that the fermentation is stopped when the sugar content is still high.
Tasting notes: pronounced aromas of chocolate, dried cherries and figs. On the palate, semi-sweet, high acidity, full, voluptuous body, light tannin and a very long, lingering finish. Drink now and meditate over a plate of cheese or chocolate cake.
Our rating: outstanding
You can buy it in the UK from the same Uvinum at £188/half a bottle.