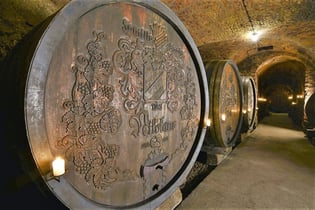 Nikolaihof is one of the most famous Wachau white wine producer and the creator of Austria's first 100 Parker points wine (if you go in for that sort of thing). It's just an hour's drive from Vienna and well worth a visit.
The foundations of the Nikolaihof house date back to a Roman horseshoe-shaped tower and a fort made of wood and earth, which existed way back in 63 BCE. The cellar also dates back to Roman times and the floor level has sunk by about a meter in a thousand years with the 'year rings' visible on the walls.
As you enter the cellar, one can notice the large oak casks, where the best wines are aged. Each cask is a piece of art itself and carries the name of one of Saahs family member.
Nikolaihof history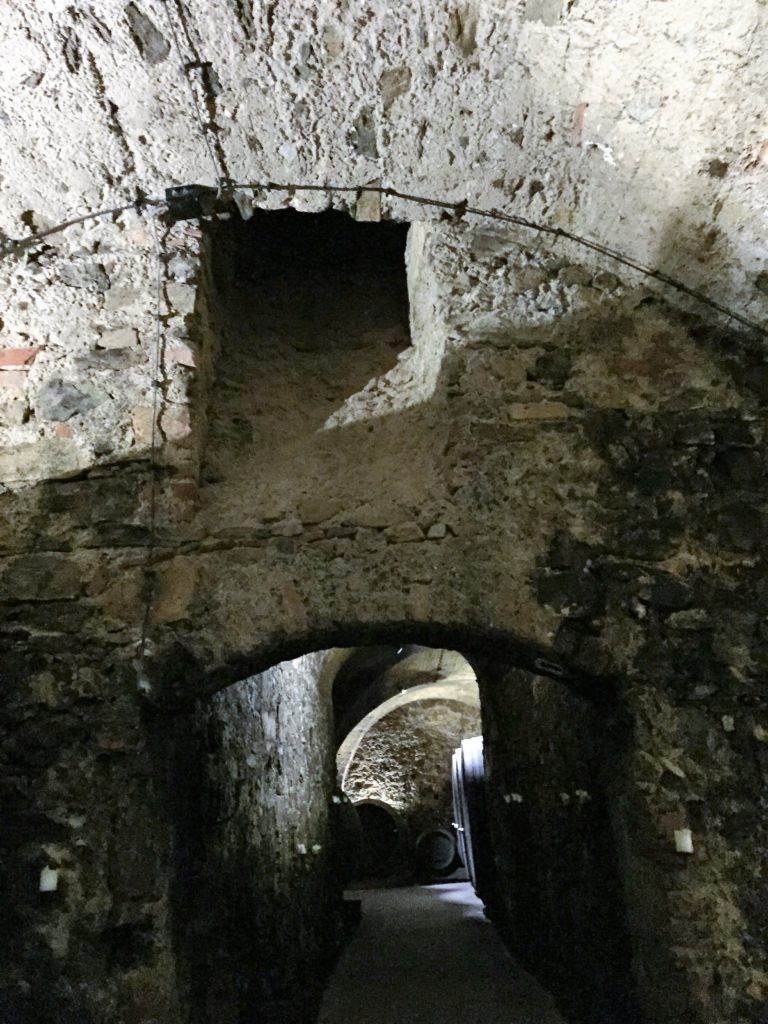 Nikolaihof is the oldest wine estate in Austria, with a history going back 2,000 years ago to Roman times. In the next village, the Roman army used to have their barracks.
During Roman times, the soldiers were partly paid in wine, so being able to grow vines and make wine in the proximity was a 'strategic advantage'. Nikolaihof still has the cellars where the Romans used to store their food. Because of that, the cellar is quite dry, without the mouldy smell, typically encountered in wine cellars.

With the spread of Christianity, the estate became a Roman Catholic monastery around the ninth century. In 1075, Nikolaihof is referred to in a document as the central administrative seat of the St. Nikola monastery of Passau.
The main building of Nikolaihof estate started to take its current shape around the 15th century. It is a mixture of Roman ruins and catholic church architecture.
Organic pioneer
The estate is owned by a single family, the Saahs, who bought the land in 1894. In 1938, they had to sell the winery to the Wehrmacht. After the end of the Second World War, the winery was under Russian occupation until 1956. The Saahs bought the winery building back in 1960. There was absolutely no money for treatments and fertilisers. As a result, more by force of circumstance than design, they became pioneers of organic winemaking in Austria, despite resistance and even sabotage from their peers.
I recently watched Joanna Lumley's TV series on Japan. During the third episode she is filming at a photo shoot of the Japanese fashion artist Minori, who has a particular fairytale way of expressing her artistic vision. Discussing about her fashion style, they mentioned the Japanese saying: 'the nail that stands out must be hammered down'. Pioneers often suffer from this kind of criticism. But Minori's twist on it is that 'if the nail is too strong, you can't hammer it'. Nikolaihof's organic production is like that.
Winemaking at Nikolaihof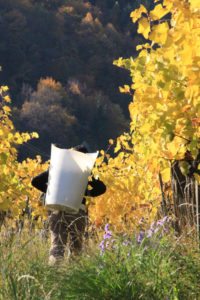 Nikolaihof follws strict organic and biodynamic production methods. They don't use herbicides, pesticides, artificial fertilisers or synthetic sprays. Instead they rely on stinging nettles, manure, valerian drops, tea and other specially produced preparations.They also follow the moon calendar when doing planting and harvesting.
Some people (Matthew included) find this homeopathic approach unscientific and mystifying but it seems to work. But everything is done with care and deep respect for the land and for nature and perhaps that is why.
Wine styles and production
They are the largest private producer in Wachau, with ~25ha of vines. Everything is done by the family, starting the year in January with pruning and maintenance of traditional stone walls, with harvest in September.
97 percent of wine produced by Nikolaihof is white and dry. The style of wine is traditional, emphasising more the spiciness of the wine rather than fruitiness.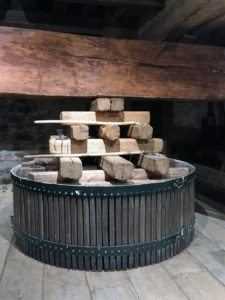 Fermentation happens in stainless still tanks, using only the natural yeast on the grapes. They are fans of a slight oxidative character and use large oak barrels for maturation. Nikolaihof has also the oldest wooden press still in use in Austria, carved from a single elm tree trunk. They produce their most expensive wine using this method, the Nikolaihof Baumpresse Im Weingebirge, which usually gets 4-5 years in large oak barrels.
Their wine list contains a variety of styles and grapes, with prices accordingly. The longest maturation in large oak cask is around 17 years with additional 3 years in bottle. It is very sought after and the 1997 vintage, which we would have liked to try and buy was entirely sold out.
They sell the youngest wines on the Austrian market, while the older ones are well sought out in US and Japan. They were also the first Austrian producer to get an 100 points rating from the Wine Advocate, for a 1995 Riesling that they released in 2012.
Nikolaihof wine tasting notes
We tasted eight wines, seven dry and one sweet. There were three Grüner Veltliners, four Rieslings and one Neuburger at the end.
The first two Grüner Veltliners were good value but our focus at Vincarta is on very good and outstanding wine so that's what we're reviewing here.
Riesling Baumpresse im Weingebirge 2011
12.5% abv, ~65€ at the vineyard, not available in UK
This wine is made using the old wood press. Fermentation happens on the skin, with the full grape bunch. Then, it is gently pressed.
Tasting notes: dry, medium acidity, medium (+) body, pronounced savoury aromas and flavours, herbs, spices, almonds, bread dough, topped up with apple and honey. A very long herbal finish, beautiful structure and balance. This wine is developing and you can drink it now but it will be better in a couple of years.
Vincarta rating: Outstanding

Nikolauswein Trokenbeerenauslese 2005
~49€ at the vineyard for half a bottle, not available in UK
This is a blend of 70 percent Riesling, 20 percent Grüner Veltliner and 10 percent other botrytised grapes. This wine is aged for four years in oak barrels.
Tasting notes: dark amber colour, sweet, with high acidity and low alcohol, pronounced aroma and flavour intensity of marmalade, figs, dried apricots, raisins, walnuts. Extremely long, pleasant finish. This wine is still developing, but you can drink it now with pleasure. Can keep for longer, but it's up to you.
Vincarta rating: Outstanding
Riesling Smaragd Klause Am Berg, 2010
12.5% abv, ~40€ at the vineyard, not available on the UK market
Tasting notes: dry, medium body, medium acidity, pronounced aromas and flavors of sweet raw almond, herbs and honey. Structured, mouth coating, elegant, with a long pleasant finish. The wine is still developing so you can drink it now but it may benefit from a few more years in the bottle.
Vincarta rating: Very good
Riesling Smaragd Vom Stein, 2012
12.5% abv, 26.2€ at the vineyard, 2010 vintage at £39 in UK from Berry Brothers
Tasting notes: dry, medium body and medium acidity, pronounced aroma intensity, aromas of honey, delicate stone fruits, herbs and hints of petrol (typical for a Riesling that starts developing tertiary aromas from bottle age), apple and savoury flavours on the palate. Long, honeyed finish. This wine is developing, so you can drink it now, but it will improve in a couple of years.
Vincarta rating: Very good

Nikolaihof Neuburger 2015
12.5% abv, 15.2€ at the vineyard, not available in UK
Neuburger is a traditional but little-known Austrian grape. You can also find it in the Czech Republic, Slovakia and in Romania (Transylvania)
Tasting notes: dry, high acidity, full body, pronounced aroma intensity of green walnuts, elder-flower, wild flowers, sweet baking spices, apple. Long finish. Youthful, can drink now, but it would be a waste. It can develop further and become more velvety and nutty. This was a very good discovery.
Vincarta rating: Very good

Grüner Veltliner Smaragd Im Weingebirge 2014
12.5% abv, 26.2€ at the vineyard, around £32£ in UK
2014 was a very wet vintage. As the result, the vines are high in acidity, with a slight metallic taste.
Tasting notes: aromas and flavours of cooked red apple from the oxidative wine making technique, sweet almond, minerality, with a refreshing high acidity, medium intensity, medium body and long finish. This wine is youthful, but you can age it for a couple of years.
Vincarta rating: Good to very good

Visiting Nikolaihof
We went there with a private tour, but they have a wine tavern and a guest house, so you can make a reservation, stay there, enjoy their wine and their food. More information (in English): www.nikolaihof.at.