Find out why Matthew is 'banned for life' from the Robert Mondavi vineyard and check out our review of a couple of entry-level Mondavi wines. Yes, in St. Lucia, because that's where we go to do wine tasting these days.
Visiting the valley
But first the confession. 25 or more years ago, I was staying with Judith in San Francisco and Mike came down from Oregon to join us for a few days. I was in the computer games business back then and the Bay Area was the heart of it. We decided to escape the city and go to Napa for the day and Mondavi was the first name we recognised as we drove up the valley. So in we went.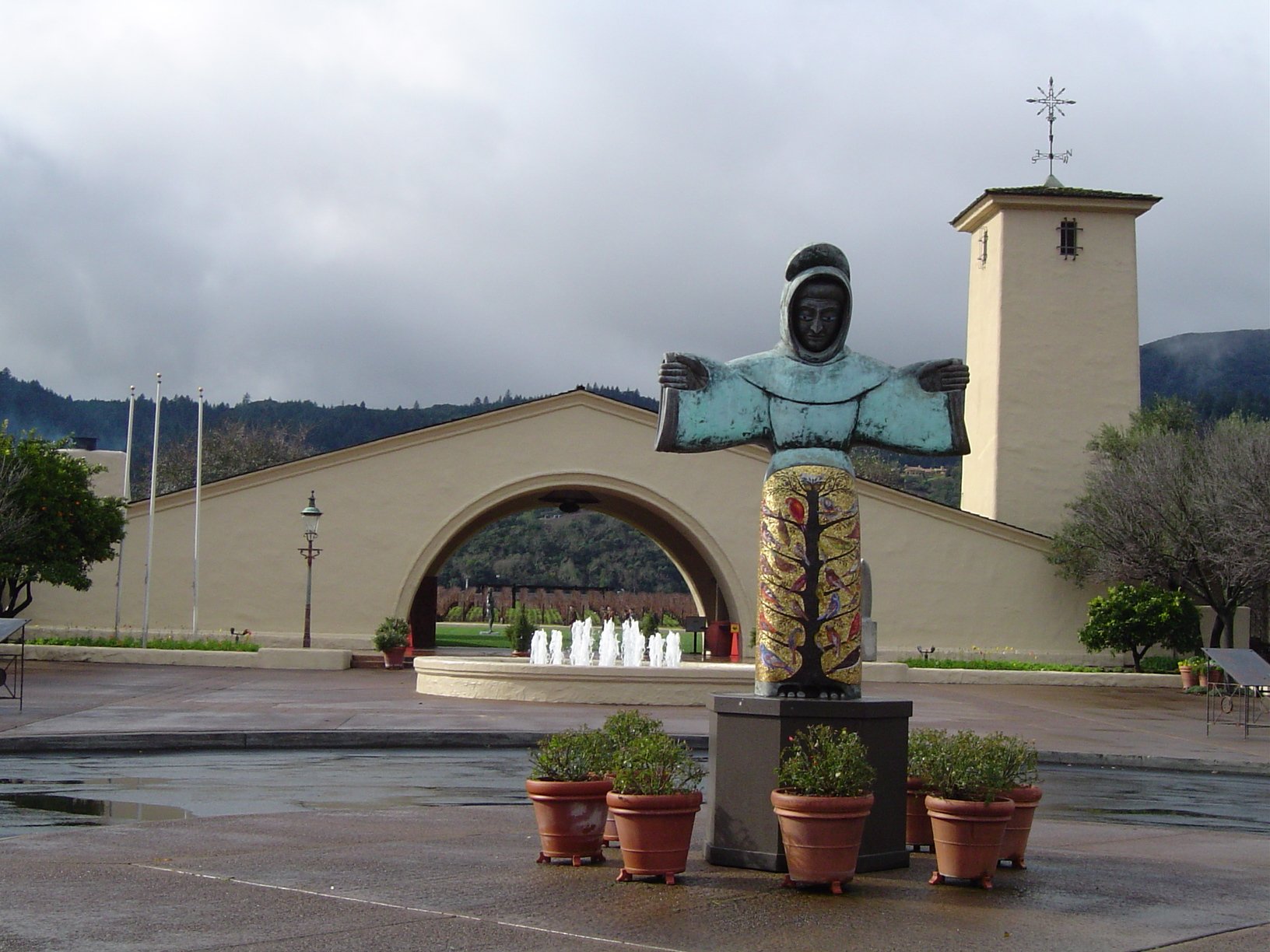 However, typically, we had left too late and arrived very close to chucking out time. The nice lady at the ticket desk said 'you're too late for the tour so I won't sell you a ticket but go on in and take a look around. Make yourselves at home but be out in half an hour because they're setting up for a party.'
Make yourself at home
So, we went in. We wandered about. We saw an open door. We went in. And there, like forbidden banquet in a fairy tail, was a series of long tables laid up for dinner. And bottles of wine. And glasses.
Now Mike has a mischievous, literal streak. When someone says to him 'make yourself at home' and he sees open bottles of wine and comfy chairs, you just know what's going to happen next.
Unfortunately, I don't have Mike's looks, his charm or his luck and about five minutes into our first glass, two rather stern men in uniforms arrived and firmly escorted us from the premises.
In subsequent retellings, I may have exaggerated a little by adding 'at gunpoint' but looking back, I don't suppose they deployed anything more menacing than a scowl and a bottle opener.
It was a poor start in my wine tasting career and certainly put me back 20 years or so. Poor Judith, a lawful good paladin, must have been mortified. Mike thought it was hilarious. I'm not sure what Robert Mondavi thought about it but I've always accelerated past the winery on subsequent trips in case they spot me.
All I can say is sorry. I know now that it's bad karma to drink wine before the party starts and especially if you're not invited.

Wine tasting in paradise
It was in this spirit of good karma that Mirela and I tasted the two Robert Mondavi wines on offer at our Sandals resort in St. Lucia. The sun shone down on our terrace as we tasted and took notes.
Wine
Robert Mondavi
California
2013
Twin Oaks
Cabernet Sauvignon
Robert Mondavi
California
2014
Twin Oaks
Pinot Grigio
Appearance
Medium Ruby
Pale Lemon
Nose
Clean, Medium(+) intensity, blackberry stalks, blackcurrant / cassis, cedar, tobacco and hints of vanilla indicative of oak ageing, possibly in American oak (Mirela says: meaty, leather)
Medium intensity, green apple, peach, nectarine
Palate
Dry, Medium tannins but grippy and drying. Medium alcohol (13.5%) Medium(+) body. Medium-intensity flavours of blackberry, plum, cedar, tobacco, sharp sweet spicy cassis high note. Spiciness and tertiary aromas support oak ageing. Medium finish with the fruit flavours outliving the tannins
Dry. Medium acidity. Light body. Medium(-) alcohol (12.5%). Palate led by medium intensity lemon, peach and tart green apple with a hint of pineapple on the medium finish. No hint of oak.
Conclusion
For a mid-priced ($8-10) wine, this is surprisingly complex and well-integrated although I think the tannins are slightly over-eager but they balance rich fruit flavours and they complete a good finish. Drink now; this youthful wine probably won't improve with age. It's ideal for a steak dinner by candlelight but not quite my personal taste. You can keep it for a couple of years, but I would not waste my cellar space for this wine.
Well balanced but relatively unsophisticated and straightforward. A good, well-made wine that's good value for the $8-10 you'd pay in the US. It's perfect for tropical paradises everywhere. Not as a tart as a classic European Pinot Grigio. But grab a cooler and your flip-flops and head for the beach: drink now, don't wait. Life is short!
So, in short, two perfectly adequate holiday wines but the less we say about the Methode Charmat (ie Prosecco style) sparkling wine they gave us, the better. Sandals don't do themselves any credit by constantly referring to this as 'Champagne' when it's clearly not.
Image credit: Robert Mondavi Winery entrance by Geographer.