The Englishman and the Romanian continue their European driving road trip. After leaving Rheingau, driving through some heavy rain in Austria, our next stop was Wachau. We arrived later than we expected at our hotel, Schloss Durnstein, so we rushed to the restaurant and enjoyed a well-deserved dinner. Wine and history are so much better on a full stomach.
Welcome to Wachau
One hour by train or car from Vienna, Wachau has been a UNESCO World Heritage Site since 2000. It is a tiny wine region in the Lower Austria wine region (Niederösterreich), stretching for about 15km along the banks of the Danube.
Winemaking here benefits from a good microclimate. Cold air flows in from the nearby forests, warmth comes from the Pannonian Basin, and the Danube provides a kind of air conditioning that makes winters warmer and summers cooler.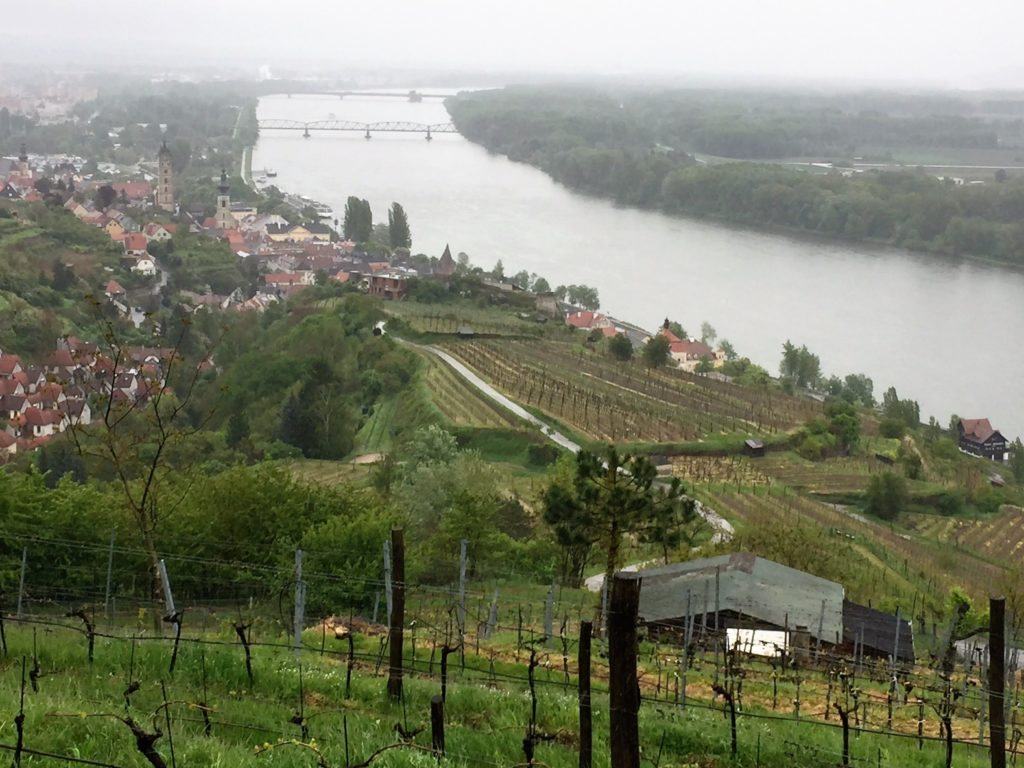 As you drive along the Danube, you can't miss the beautiful dry stone terraces. Without those stone walls, which are mortar free and require painstaking and complex construction and maintenance, there would be no viticulture. They've been doing the job for more than 1,000 years.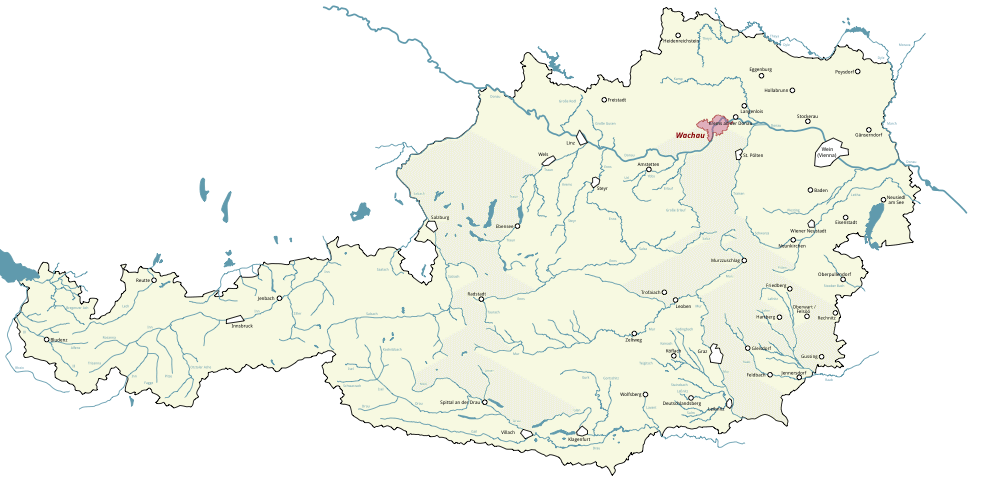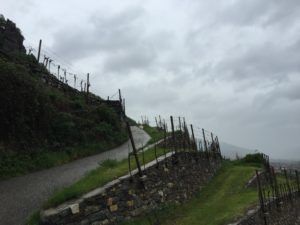 Wine has a long history in Wachau going back to Roman times. Roman soldiers planted the first vines here as they did elsewhere. We visited one vineyard with the remains of a Roman wall in its cellar. (What have the Romans ever done for us, eh?)
The church continued making wine after the collapse of the Roman empire. They discovered grape varieties matching the soil types and building cellars and dry stone walls.
Austrian grape varieties
Wachau focuses mainly on Riesling and Grüner Veltliner. The region is well known for producing high-quality wine, usually dry, full-bodied, with good minerality and a great potential for ageing. The majority of wines find their customers locally, and few are exported.

Grüner Veltliner is the main Austrian grape variety, accounting for ~30% of plantings. Typical tasting notes include herbal, green fruits, and white pepper while young, developing into honey and toast as it ages.
Wachau wine classification
The Vinea Wachau wine association was founded in 1983, to promote the authenticity, individuality and craft of the Wachau region. The association imposed strict quality criteria for wine growing, harvesting and making. Manual harvesting, all grapes must come from Wachau, with no addition of sugar (chaptalisation), dry fermentation and no wood flavours.
There are three styles of wines, with charming names from local objects and symbols, like the Steinfeder grass, the Federspiel, the prey dummy used in falconry and the indigenous green lizard, called Smaragd: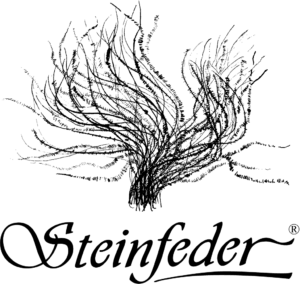 The lightest of all styles, with a maximum abv of 11.5%. These wines are meant to be drunk young, mainly as an aperitif.

Somewhere in the middle, with delicate aromas, abv 11.5 -12.5%, meant to be an ideal food accompaniment.

The highest category of the Wachau wines, for wines from best vineyard sites. Intense and complex, with abv of minimum 12.5%, they often benefit from ageing.
Hotel Schloss Dürnstein
When we arrived at the hotel, after a long drive from Rheingau, they were kind enough to say they had upgraded us. But we didn't know what it meant until we got to the room. Surely some mistake! It was so huge and palatial that it would make a princess blush. You need a map to get from the door to the windows overlooking the Danube.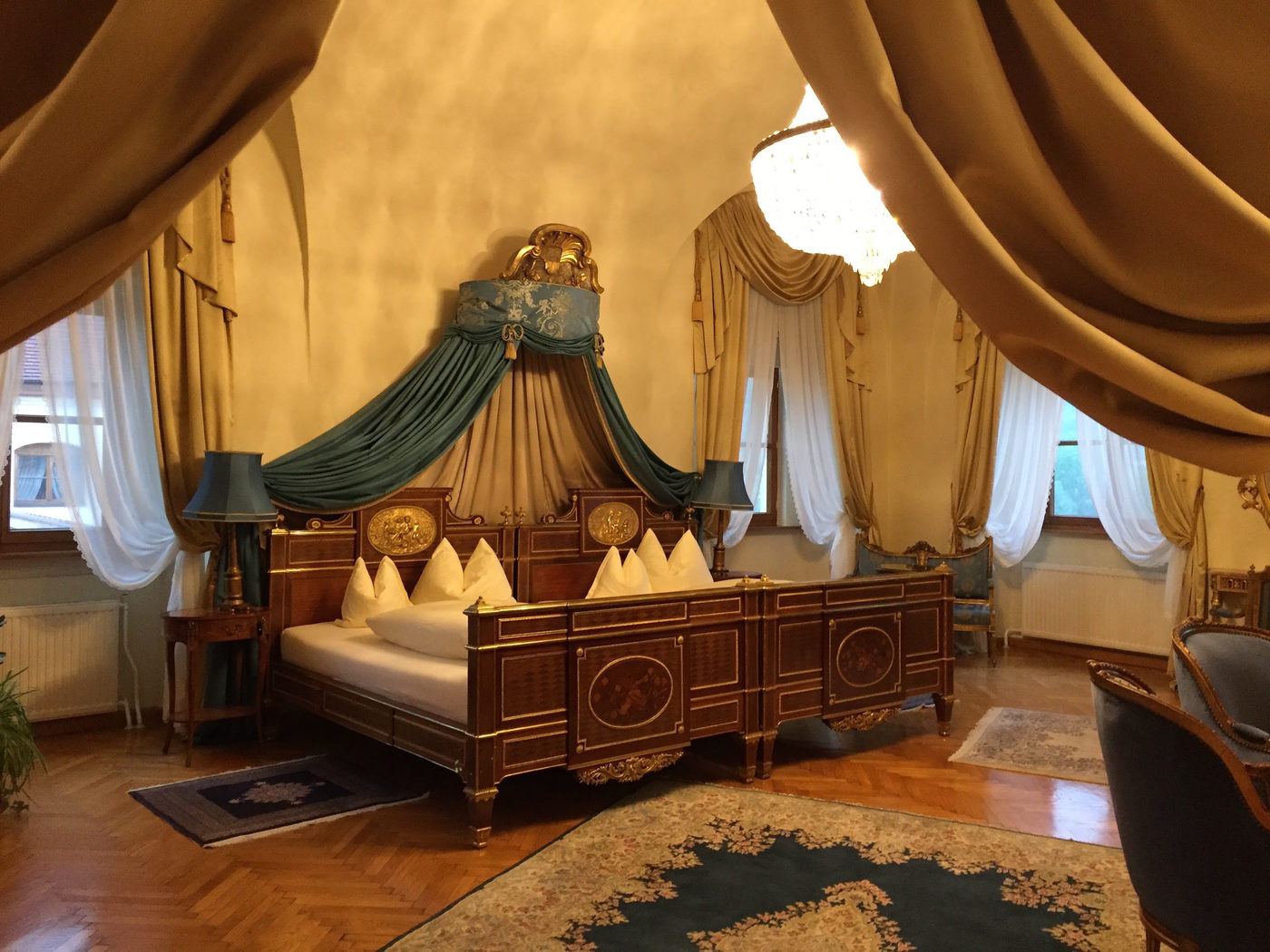 Wine visit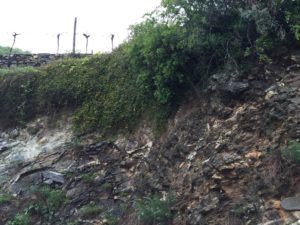 To visit Wachau vineries, our hotel recommended a private tour with Dr Martin Wiche from Wachaupur. Our friendly host is a former lawyer with a strong passion for wine, which runs through his veins (his grandfather was Josef Jamek, one of the founders of Vinea Wachau).
He took us to visit two wineries: Nikolaihof and Jamek. Despite heavy rain, Martin took us through the vineyards and explained to us the different soils and their impact on wine characteristics. Later on, at the wineries, we could taste the differences. (We'll be publishing tasting notes in an upcoming article.)
This is a great way to get to know this amazing wine region, and we enjoyed our day with Dr. Wiche very much.
In search of Richard the Lionheart
After a 30 minutes steep walk up from the picturesque town of Dürnstein, you come at the footsteps of Burgruine Dürnstein.
This was the prison for Richard I of England from 1192 to 1193.
He was shipwrecked near Aquileia in Italy on his way back from a crusade and captured by Duke Leopold V who imprisoned him. As the detention of a crusader was against public law, the duke got in trouble with Pope Celestine III, who excommunicated him.
The detention of Richard did not end at Dürnstein. In early 1193, he was handed over to Henry VI, Holy Roman Emperor, who imprisoned him in Trifels Castle, in Germany. The emperor demanded an enormous ransom to release him: 100,000 pounds of silver, which was 2-3 times the income of the English Crown in those days. This was, literally, a king's ransom and the equivalent today of the reported 2015 English Crown net income of £600-900 million.
Burgruine Dürnstein was originally built in 1130 by Hadmar I of Kuenring and was destroyed in 1645 during the Thirty Years' War. Now the ruin is home to bat colonies and earnest-looking hikers.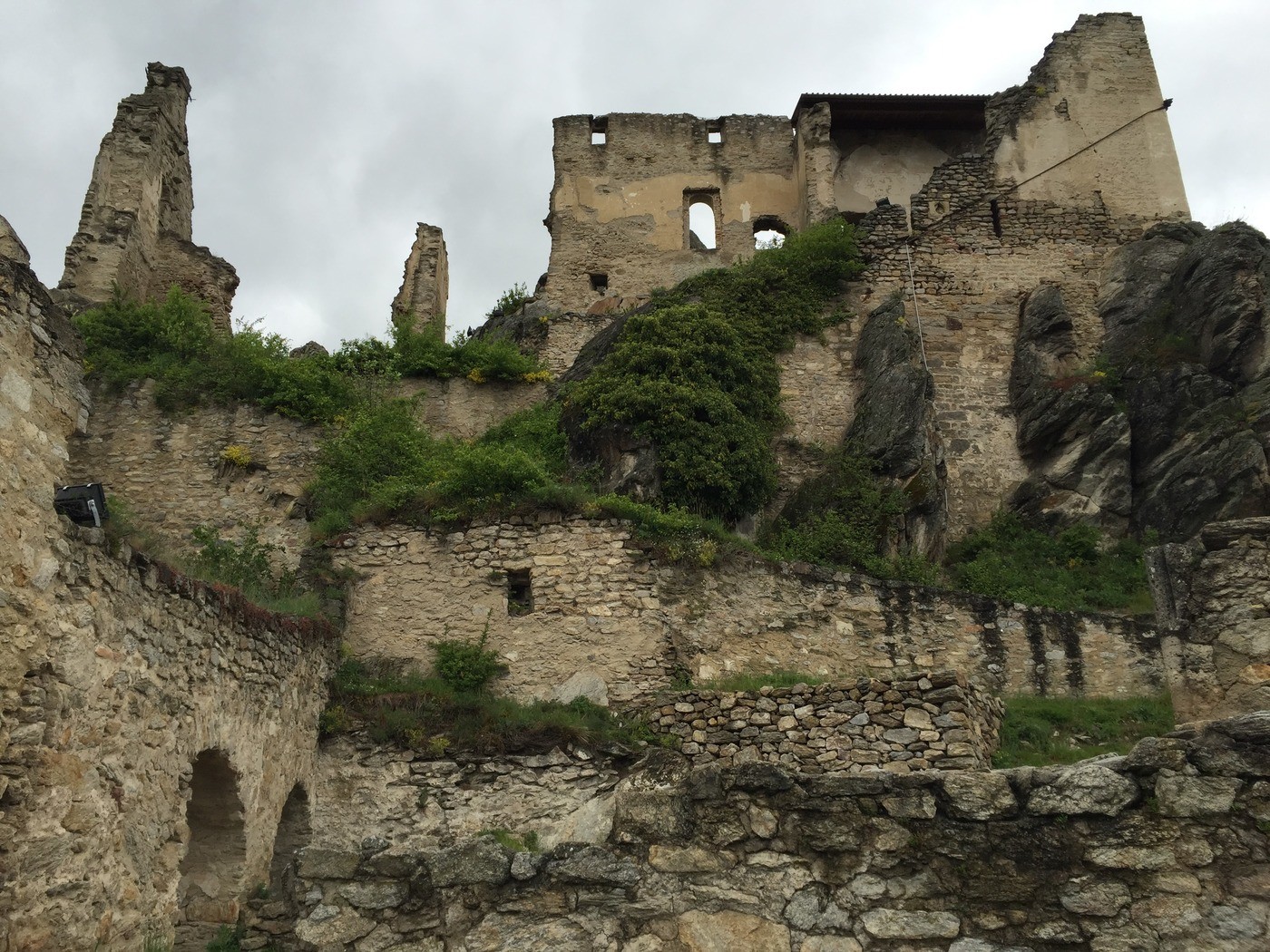 The climb is too steep for wine lovers to enjoy, but after catching your breath the view is worth the climb.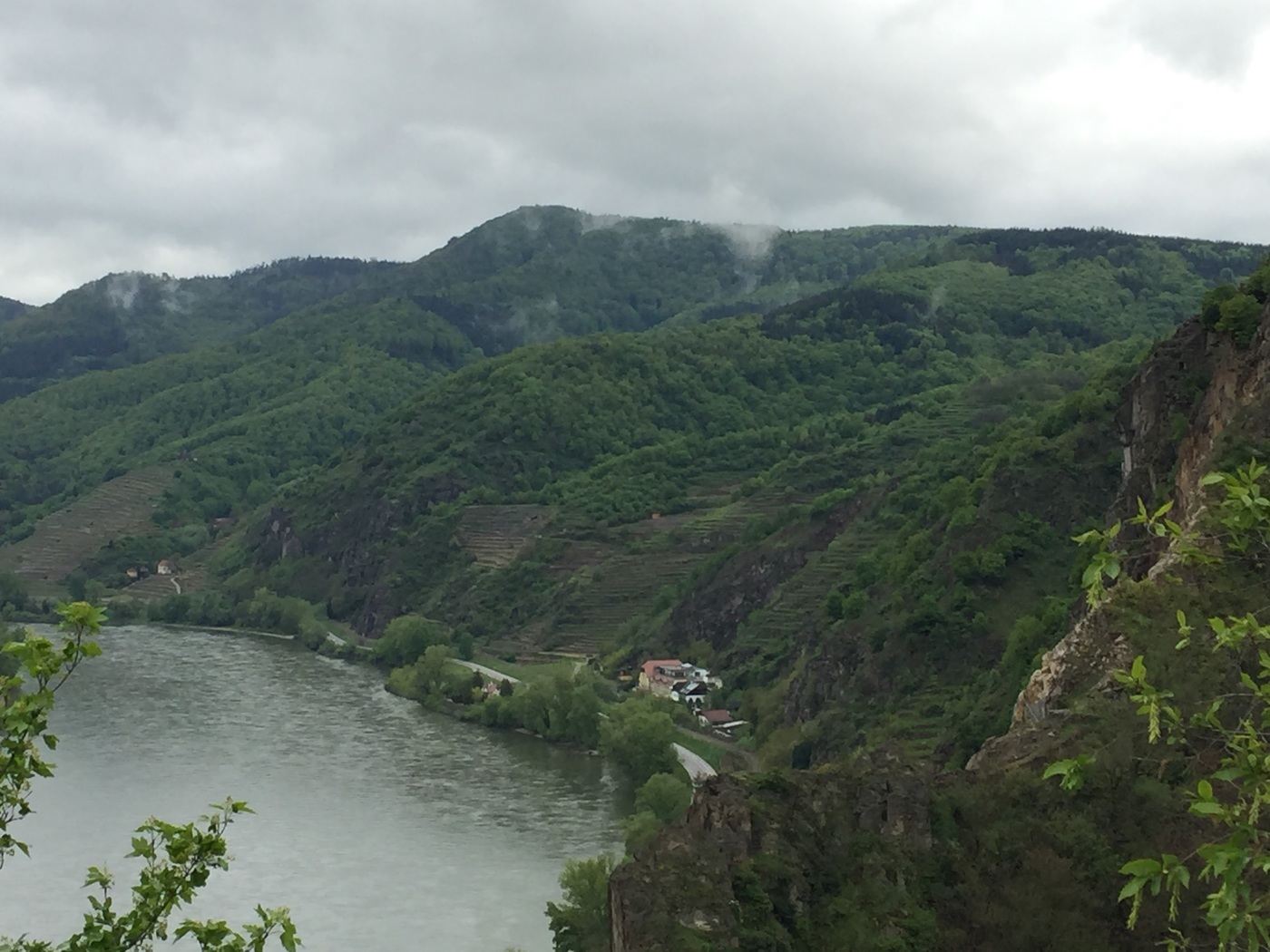 History of Weingut Jamek
Jamek is a famous Wachau producer and one of the better Austrian winemakers. The winery was founded in 1910, but it was Josef Jamek (1919-2011) who left the deepest mark on the brand and, more broadly, on Austrian wine. It's a story of adversity and innovation.
After the Second World War, Russian troops ravaged homes and cellars throughout Wachau. Josef Jamek and his wife rebuilt the estate and started a restaurant. Over the following decades, Jamek:
Realised the importance of terrace stone walls and promoted their rebuilding.
Nurtured the idea that the wine quality depended on the vineyard soil, setting and microclimate (the French call it 'terroir'). In fact, we tasted two Jamek Rieslings coming from different sites but with the same grape varieties and vintages. You could tell the difference between the two.
Co-founder of the Wachau wine classification, the Vinea Wachau, after the 1985 Austrian antifreeze scandal. Some Austrian winemakers used glycol in their wines to imitate the same mouthfeel of wine made from botrytised grapes. The scandal led to a steep decline in sales of Austrian wine and, as in Wachau, a rededication to quality.
In 1959, Jamek acquired the Klaus vineyard, considered one of the best in Wachau and planted it with Riesling, at a time when most vineyards were planted with field mix, which is various grapes varieties planted on the same site, harvested at the same time and co-fermented. He was the pioneer of single vineyard, single varietal wine in Austria.
He retired and left control to his daughter and son-in-law, who continue his work, but with a modern twist. Today, Weingut Jamek owns about 25ha of vines.
Jamek wine style
Josef Jamek was ahead of his time in terms of wine style. He believed that wine should be dry, refreshing, free of additives and most importantly, without added sugar. At a time when much Austrian wine was undistinguished and nondescript, he was making wine that respected its origins and without additives or added sugar.

Here at Vincarta, we value winemakers that respect their land, their grapes and their wines. Each vintage is different, especially in Europe, as you don't have the same amount of rainfall or sun every year. It takes a lot of skill to express the true character of each vintage, each vineyard and each grape variety. Making wine the same way every year is a technical achievement but it lacks soul. We prefer Jamek's approach.
In 1976, Jamek was the first one in the area to use stainless steel in his cellars, to control fermentation. This did not mean he wanted to replace the wood casks, but he wanted to increase the quality of his winemaking.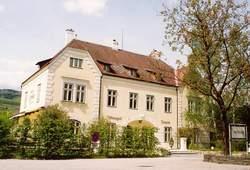 His commitment to quality was so high, that he started choosing who could buy his wine. Martin Wiche, our guide, told us the story of how his grandfather would go in disguise to various restaurants across Austria. He would sit at a table, watch the atmosphere and taste the food. Only at the end, if he liked the place, did he tell the restaurant that they could buy his wine.
Tasting notes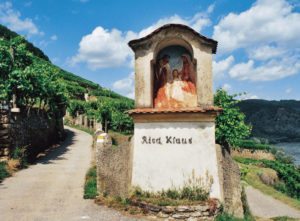 We tasted nine wines in the restaurant, under our guide's expert guidance. The tasting focused on showing us the difference in style between the different Wachau classifications. We started with a Grüner Veltliner which we tasted as Steinfeder, Federspiel and Smaragd. You could taste the increased complexity and the alcoholic strength as we progressed through styles.
To understand the concept of site influence on the wine, we also tasted and compared a Ried Achleiten Riesling versus a Ried Klaus Riesling, both smaragd and wonderful.
As usual, I will only provide tasting notes for the ones that we found very good and outstanding. The rest were good value and worth looking at.
Ried Liebenberg Grüner Veltliner Smaragd 2015
€23 from the producer
Tasting notes: dry, medium acidity and medium alcohol, full body, medium plus aroma and flavour intensity of lemon, peach, lime, flowers, with an added herbal taste on the palate. Balanced, refreshing, with a long lemon zest lingering flavour. This wine is too young to drink. It will develop nicely in the next couple of years.
Rating: Very good
Ried Achleiten Grüner Veltliner Smaragd 2015
€29 from the producer
Tasting notes: dry, medium (+) acidity, full-bodied, medium alcohol, medium (+) aroma intensity. Subtle, elegant, with plenty of minerality and aromas of green bell pepper and lemon, with a little pear on the palate. Balanced, mouth coating, with a very long finish. This wine is too young to drink. It will develop nicely in the next couple of years.
Rating: Very good

Ried Klaus Riesling Smaragd 2014/2015
€42 from the producer
Tasting notes: dry, high acidity, medium alcohol, medium body, medium aroma intensity. Herbal and lemon zest aromas, minerality, with peach, pear and sweet almond on the palate. Very long finish. It is again too young to drink now and it needs a couple of years of bottle ageing to develop those beautiful riesling ageing aromas.
Rating: Very good

Ried Hochrain Weissburgunder Smaragd 2015
€26 from the producer
This Pinot Blanc made from 1946-era vines was the revelation of the tasting.
Tasting notes: off-dry, medium (-) acidity, medium body. Pronounced aroma intensity of flowers, green bell pepper, aromatic, bubble gum (indicative of carbonic maceration). On the palate it had medium-intensity flavours of flowers, lemon and apple. Medium (+) finish. Youthful can drink now but can be kept for 1-2 years as well.
Rating: Good to Very good

Visiting Jamek
The best way is to make a reservation at their restaurant or stay in their guesthouse. You can taste the wine and enjoy the lovely Austrian food. Also, if you want to buy Jamek wine, that's the place for you although you can also buy online at their shop. For more information: www.weingut-jamek.at
Ried Klaus landmark: Genuss Magasin. Jamek winery image: Winebeing. (We didn't take any pictures of Jamek because it was pouring with rain when we got there and we were keen to get inside, have a tasting and some lunch!)